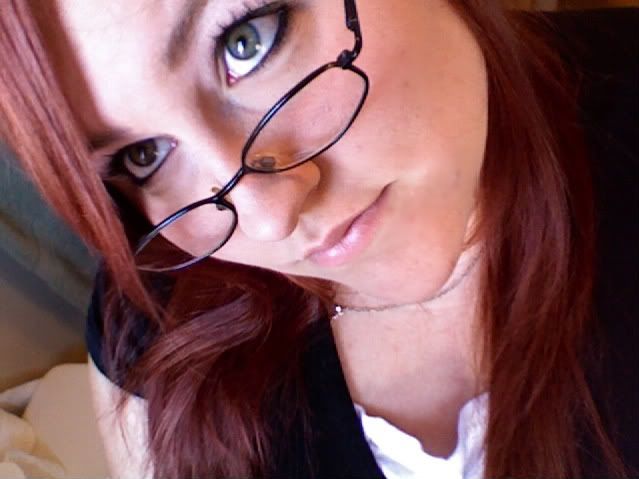 So, about mid-december I decided I wanted a change, and that change was going to manifest itself in my hair. So my roommate Kristina and I ended up in the hair color isle of Wal Mart, where she picked up a bottle of black, and I went with a moderate color called "Roasted Coffee" which was brown with a tinge of red. I have always wanted to go red, but I was afraid to do anything too outrageous. The next time I got a bit more gutsy with a "Medium Auburn." While I was smashingly gorgeous in those colors, none of them were quite the change that I made last night. My hair is almost Mahogany! It's an herbal essences color called "Paint the Town" and when I first did it, I was really worried about how it looked… However this morning, all dryed and styled, I think I really love it. It's wild, and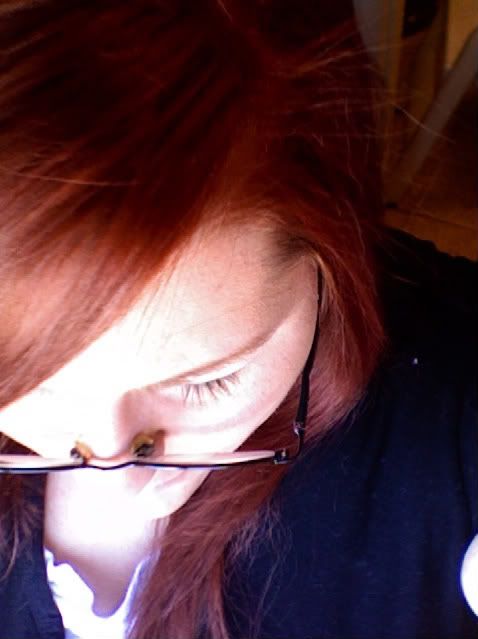 vibrant, and just the outstanding color that a fire sign (because I'm extra fiery being an Aries/Leo – which basically means I crave attention) would wear. It's bold and sassy!
Also, I just have to say TGIF! It's Friday! *Happy Dance* This week actually moved by fairly quickly, just not quickly enough. My job is a good job, I'm happy to have it and I am good at it, but it's not very… Stimulating… There's a frustrating lack of excitement in it, and that makes me miss working at Sparetime even more. At least when I worked there it seemed like there was a steady flow of action, always something going on or some character in bowling that you could have a fun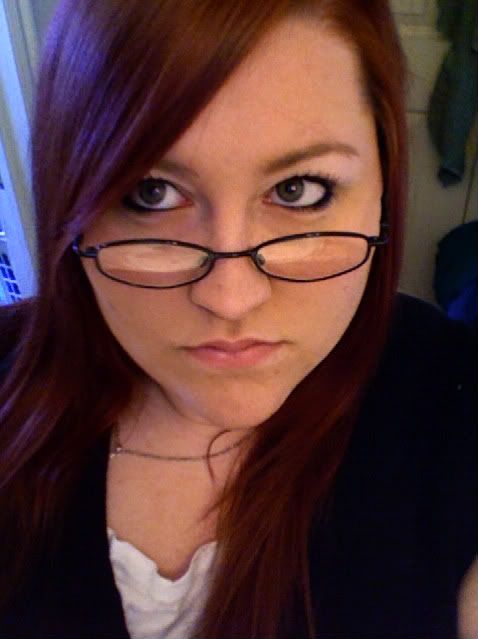 conversation with. Sometimes, I think I'd go back in a heartbeat if I could support myself there. Who knows though, it's been over a year and a lot of the same people aren't there any longer, it may not be what I remember if I went back.On another up-note, I finally found the charge cord for my MP3 player, which I haven't seen since Xmas. Work is slow right now, so in the 9 minutes between calls I am happily jamming out to my own music! This makes me
tres tres
happy! Huzzah!
Haven't heard from the Army boy in a couple of days, this kind of makes me sad. Especially since he said he'd call me, and our "big" conversation the other night is still unfinished. I'm confessing here, the more I think about it and think about him coming home, the more excited I get. This could be a good thing, a very good thing. It's been a long time since I've allowed myself to fall madly in love with anyone, and I think I might just let myself do so with him. There's some real potential here! I think the scariest thing for me is that
technically
it'll only be my 2nd long-term relationship. I've had quite a few short flings and relationships, but I can't count any of them as serious. Nothing really serious since DF ended in 2006. Wow. Being single has been fun, and I'm still enjoying it currently… But at the same time… Maybe I can channel this into fulfilling some of my desire for change… I'm excited for a new experience! Bring it on!
Mark's up for a visit, and I'm inviting a couple friends over, so we're having theme night tonight. He's making Margeritas and Daquiris and I'm going to make Mexican food to go with the tequila! I'm going to make my dad's enchiladas! He cooks the meet in beer for flavor, and then adds enchilada sauce and cheeses. I'm getting the recipe from my mom at lunch so I can pick up any remaining ingredients I may need. I've been missing cooking, so I'm excited to do so. Just a few more hours til the weekend… Tick Tock… To quote Alanis (as I do so often):
Bring on the Tequila, oh
I'm fire on Tequila, oh
Hostess most on Tequila, oh
Bestest friends on Tequila, oh