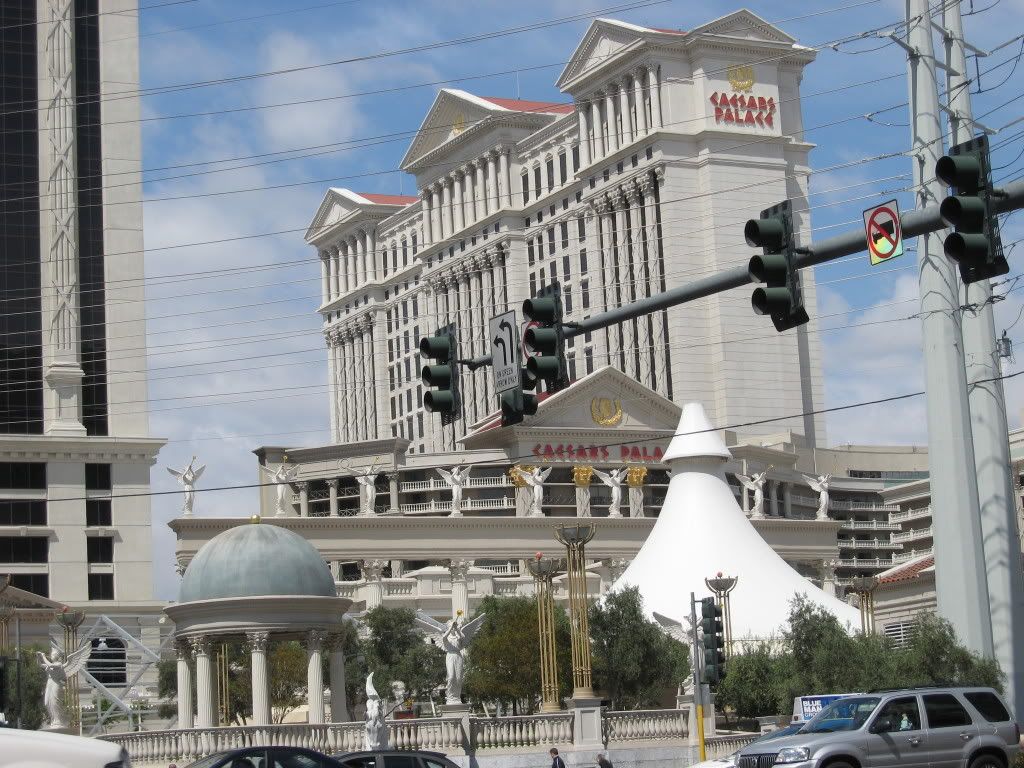 So most of you know that I spent last weekend in Vegas, and I have to say it was the BEST VACATION EVER. No joke, I really didn't want to leave and have felt with drawls since I've been back. It was so care free and there were no responsibilities and that was absolutely lovely.
We left Thursday about 5ish, and hit the road in Josh's bug with Max in the back playing games, and me riding shotgun running the iPod. It was so much fun! We stopped in Nephi to have dinner at One Man Band, stopped for gas in Cedar City, and made it into Vegas at about midnight Vegas time. By the time we rolled over the hill and saw those city lights we were already excited because we were already having an awesome time!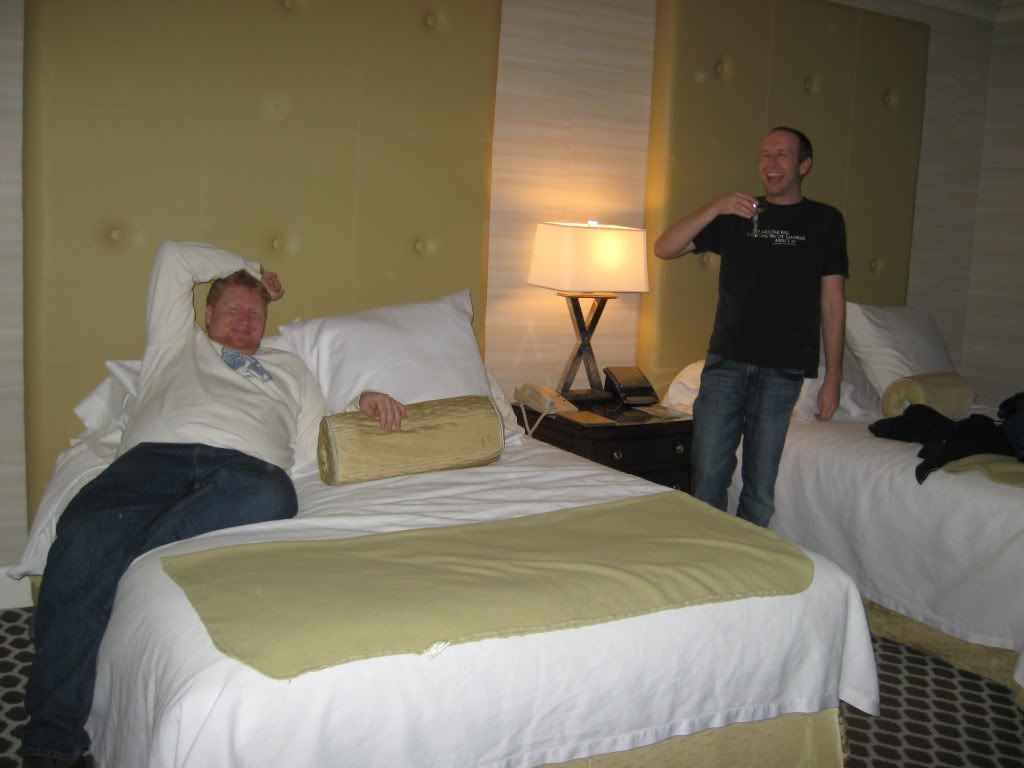 The boys in our hotel room.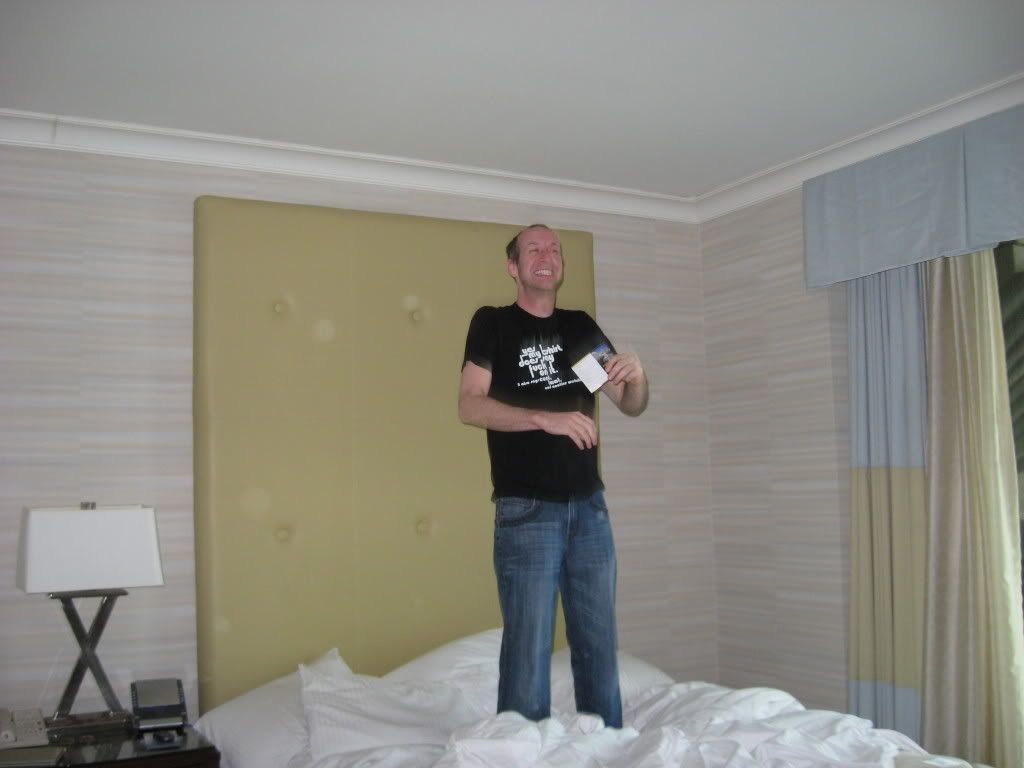 Josh jumping on the bed, he really enjoyed that!
My cousin Melanie had managed to get us a free room at Caesar's Palace right on the strip, and it was so amazing! It had this gigantic jetted tub that actually fit all three of us in it, and Max and I aren't exactly little. We even took a picture of all three of us sitting in the tub!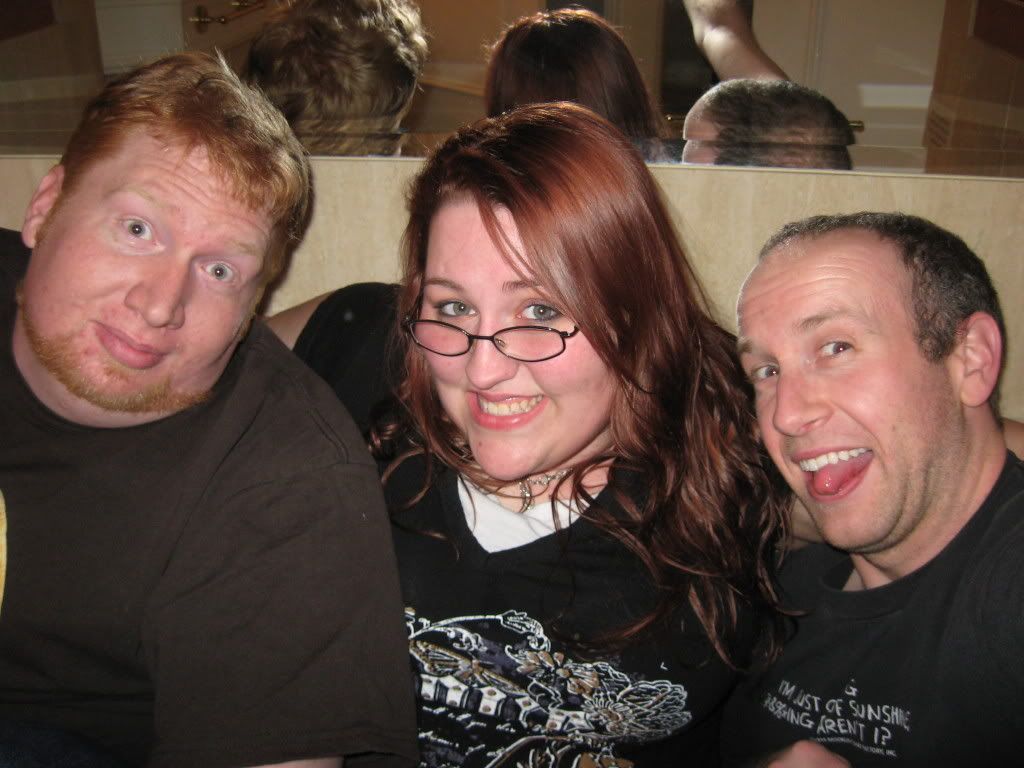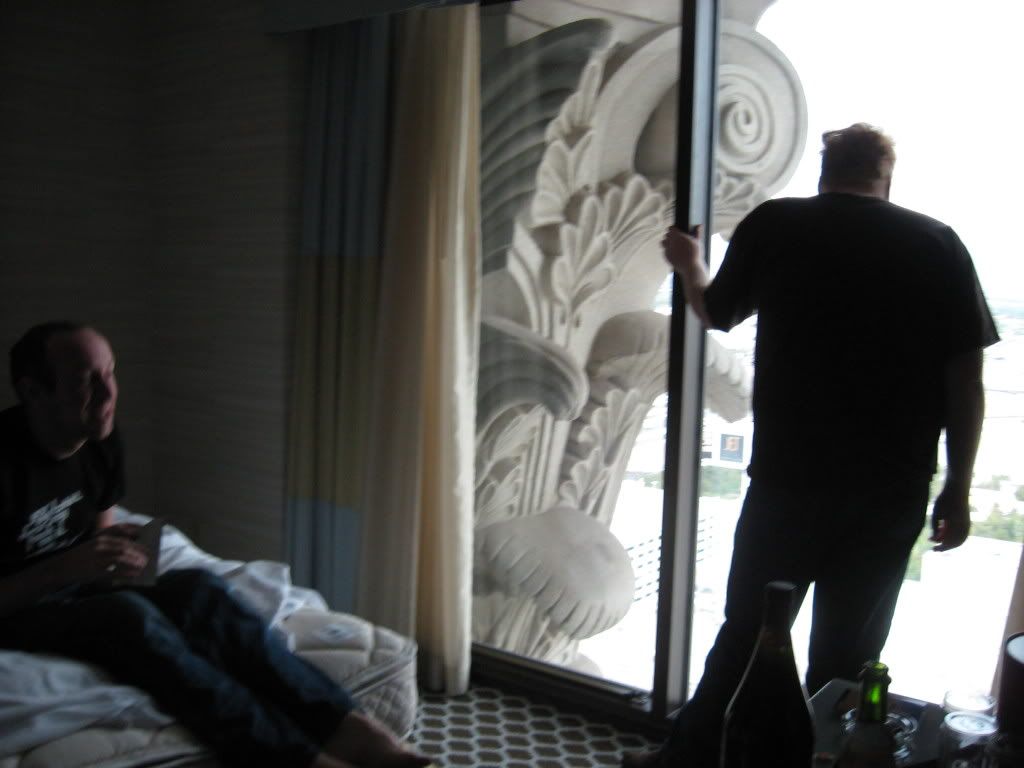 All 3 of us in the HUGE tub!
Looking out the window in our room.
The bathroom was huge and so was the room. There were two beds, which Max had one to himself and
Josh
and I shared the one by the gigantic window with a pretty nice view out over the end of the strip.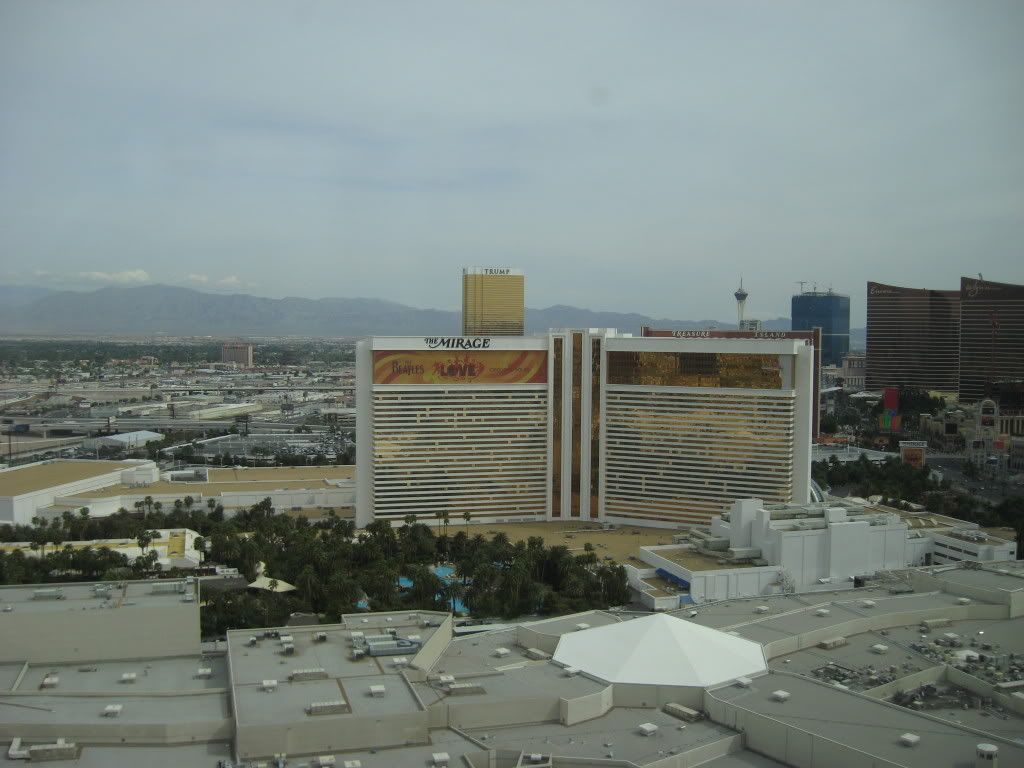 The view from our room.
The bottles of Champagne and Jack.
Bill and Melanie left us a bottle of Champagne and a bottle of Jack Daniels. The champagne was really yummy, and it was the first time I'd ever had it as we opened it up and toasted my birthday and the awesome trip that was just beginning. After playing in the room a bit,
Josh
and I made our way out on the strip to walk around and take pictures, before crashing at about 3 am.
Out taking pictures on the Strip.
At Bills Gambling Hall. Love this face he's making! LOL!The next day I managed to get up about 8am (as I did every morning of the trip) and take a nice bath in the jetted tub. Then as everyone else got up and were ready, we walked over to Bills Gambling Hall and Saloon and had breakfast at the Victorian Room, which was far too expensive.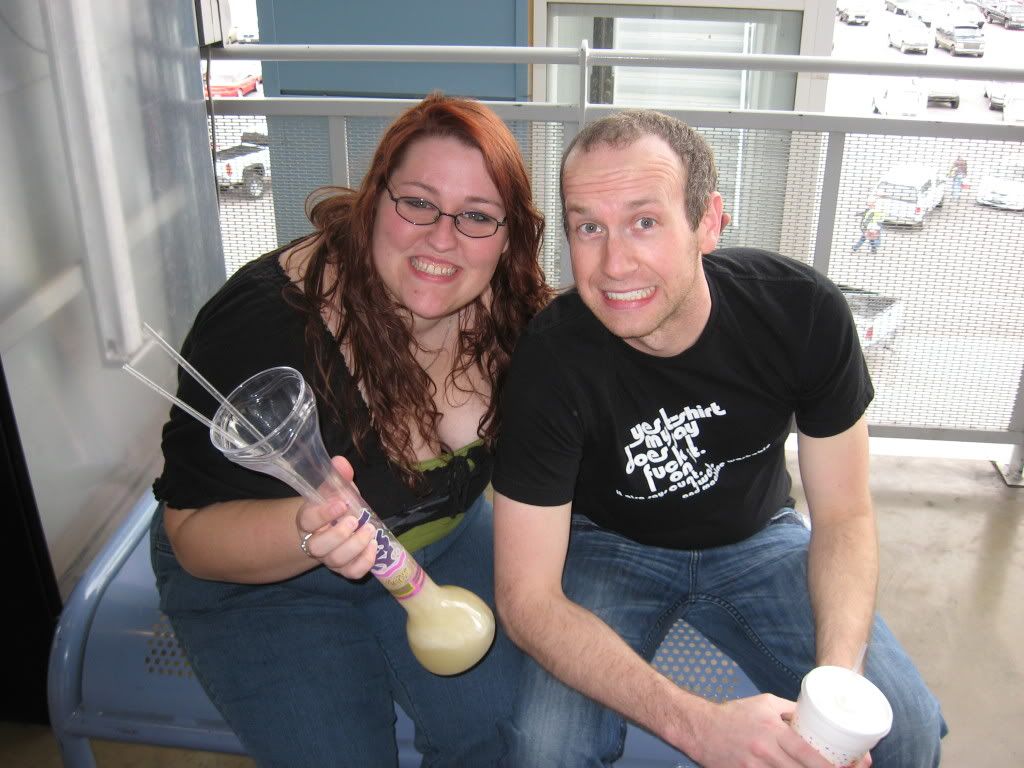 Josh and Me with my "Half-Yard Margarita"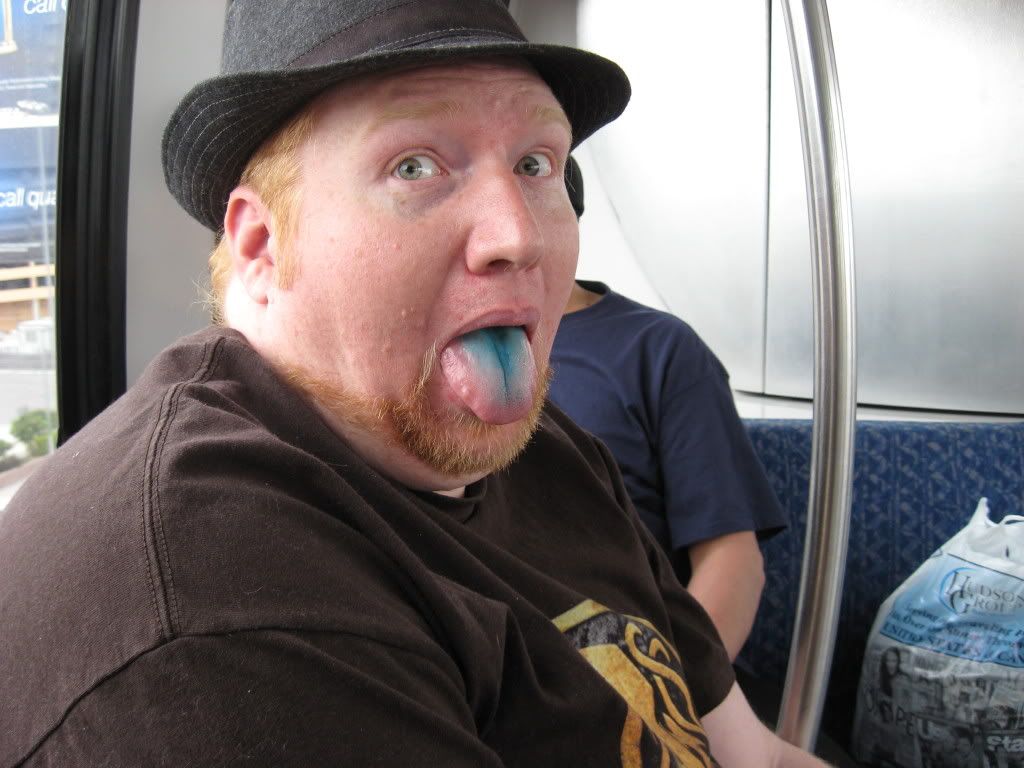 Max's blue tongue from his alcoholic slurpee…
Then we decided to trek down to the Stratosphere to get my "mile high Margarita" that I'd been excited for. We walked approx. 4 miles, and I was wearing brand new shoes so I managed to tear my feet up pretty good, but after we got the margaritas we caught the tram back to the hotel.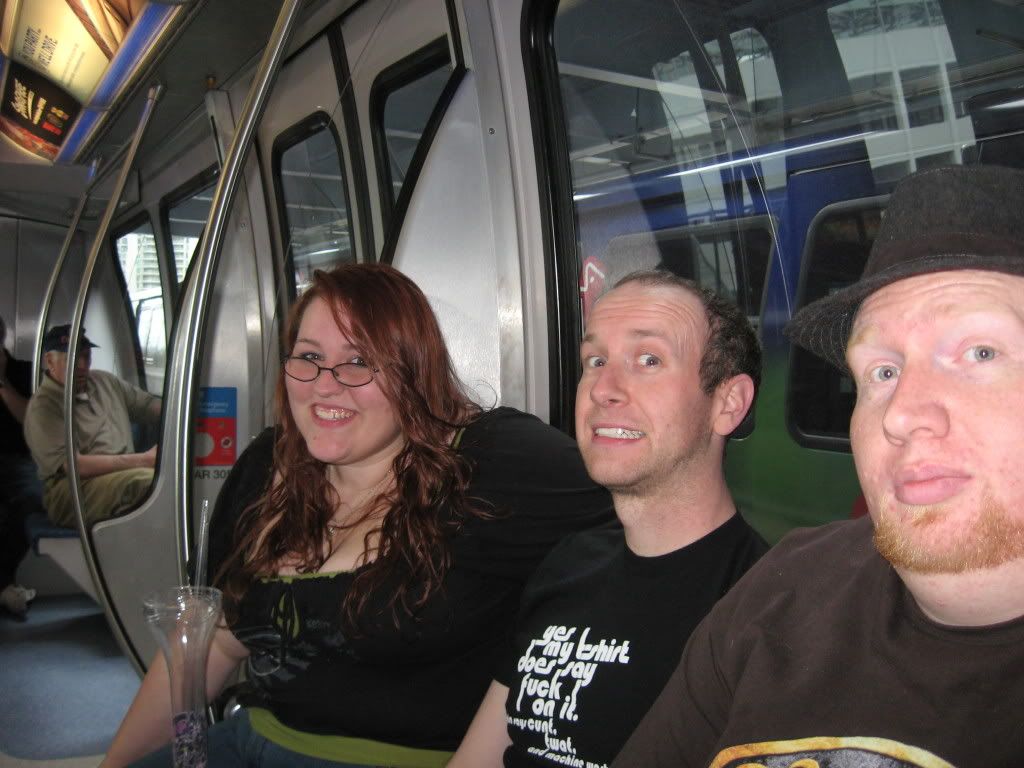 Riding the tram back to the hotel… I was a bit… Tipsy…
That evening we drove back down the strip to Slots A Fun to have their "half-pound hot dog", and it was only $3.99 for the hot dog, chips and a drink. It was a steal, and it was pretty yummy too!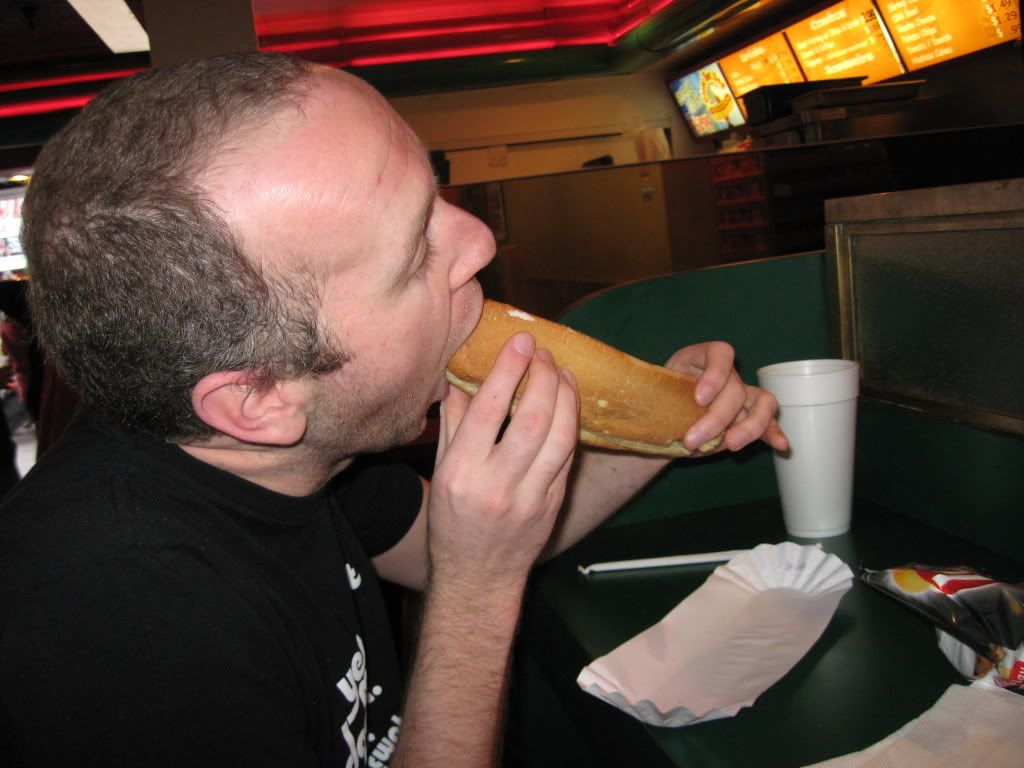 Josh eating his gigantic hot dog.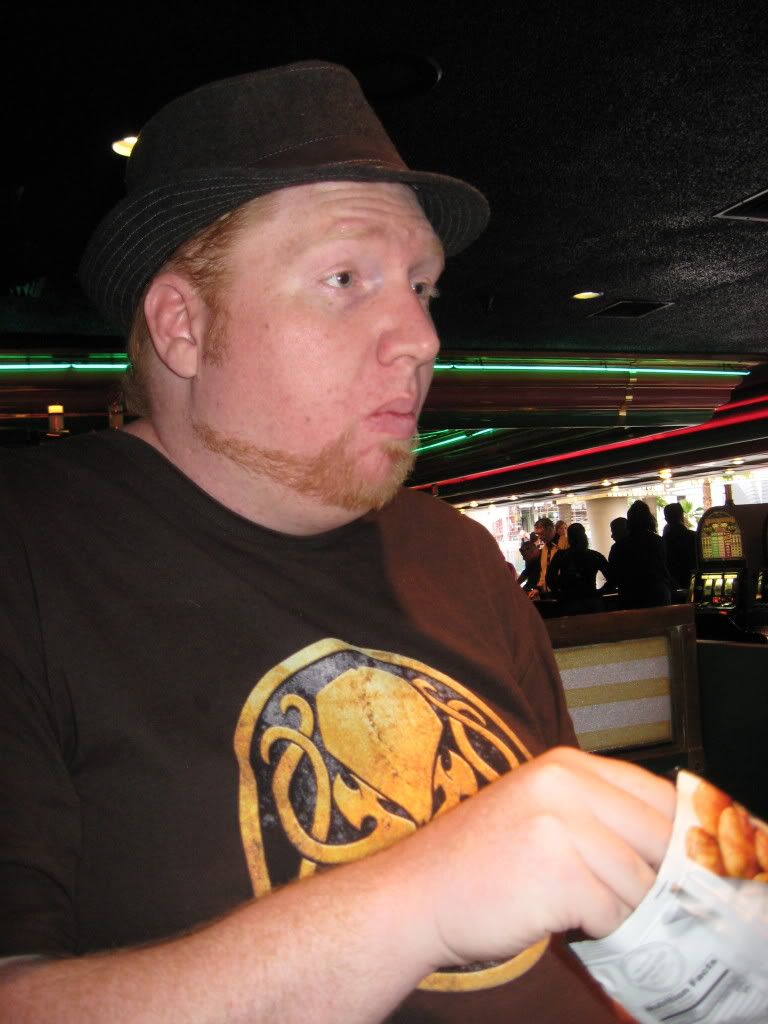 Max eating chips at Slots A Fun.After eating we drove down Industrial (which is famous for having all the strip clubs on it), and stopped at the Erotic History Museum, which Max had noticed on the way up. If you bought something in their gift shop they gave you entrance to the Museum for free, and it was very interesting to walk through and learn about the history of some of that stuff.
Max & Josh in front of the Erotic History Museum.They had displays, movies, and even posters of all the sexual indiscretions of some of our most famous politicians. It was very interesting, and the lady running it was very fun to talk to. Then it was off to Jack-In-The-Box for dinner, and back to the hotel where Max went to bed and
Josh
and I wandered around the Forum in Caesar's Palace and had a good long talk.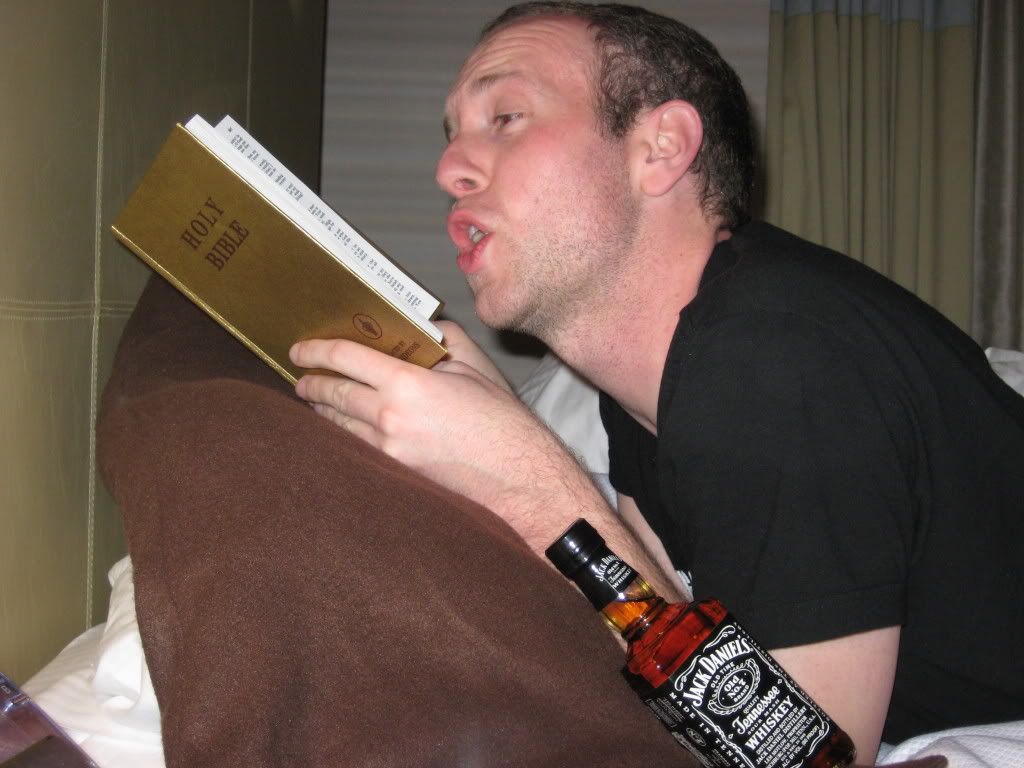 It takes Jack for us to read the bible!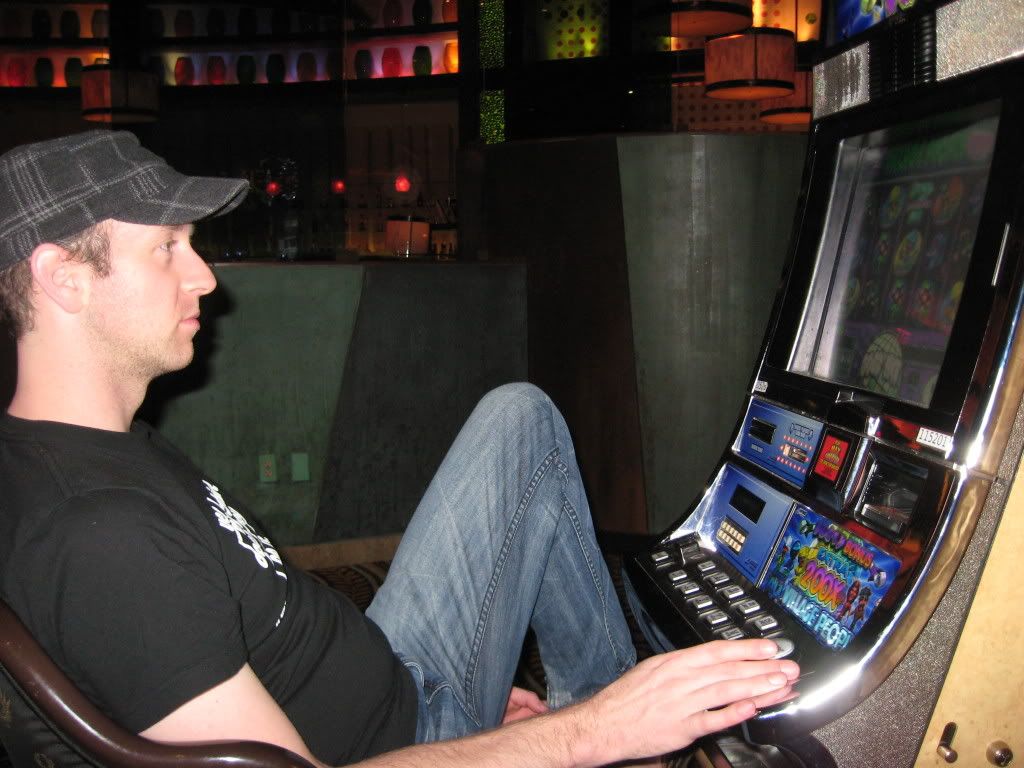 The only gambling we did: About 20 minutes on the penny slots, although we knew that if we did want to continue gambling, doing a quick google search into something like
casino euro
could help us continue this until we had enough. Plus, we could do this within the comfort of the hotel room which was always an advantage. It's often hard to decide which online casino to use because there is such a large selction out there. Thankfully, there are sites and articles out there featuring things such as
this review
to help people evaluate each online casino so that they know their decision is a well-informed one.
Saturday morning we got up and made our way to The Palms for their $6.99 breakfast buffet, but only made it in time to have a half hour to dish up and eat. Then we hopped in the car and drove to Henderson so that I could see Aunt Patty and the Koh family, and so that Max could stop at his brother's mom's house.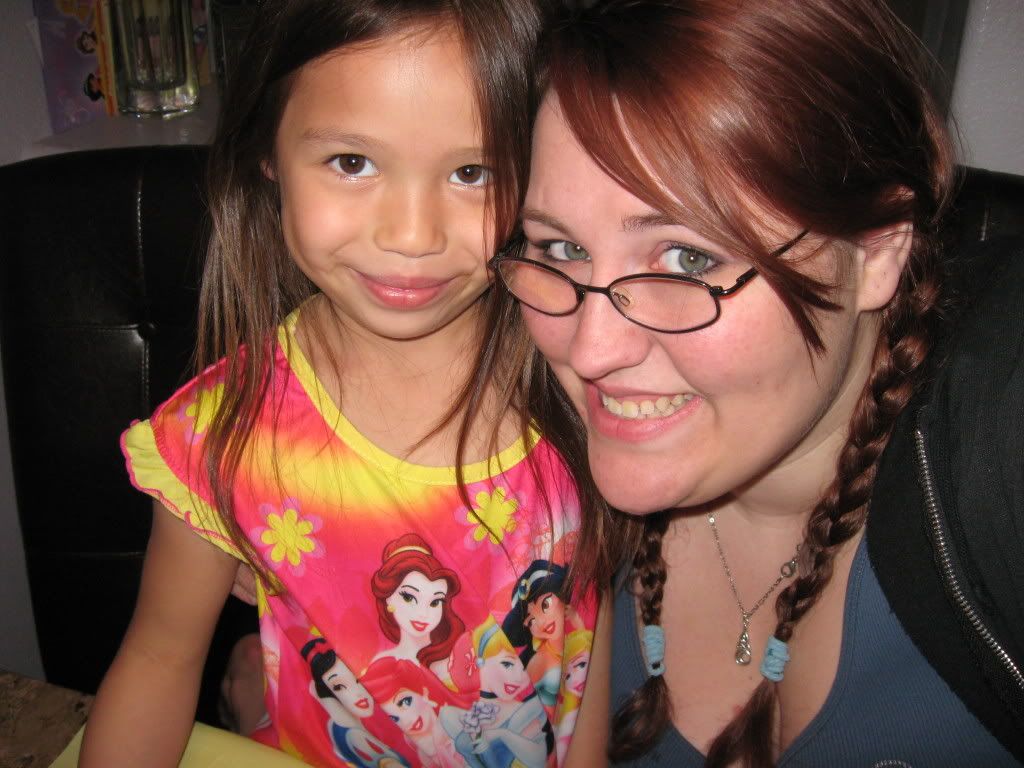 My Brianna and Me. Look how big she's gotten!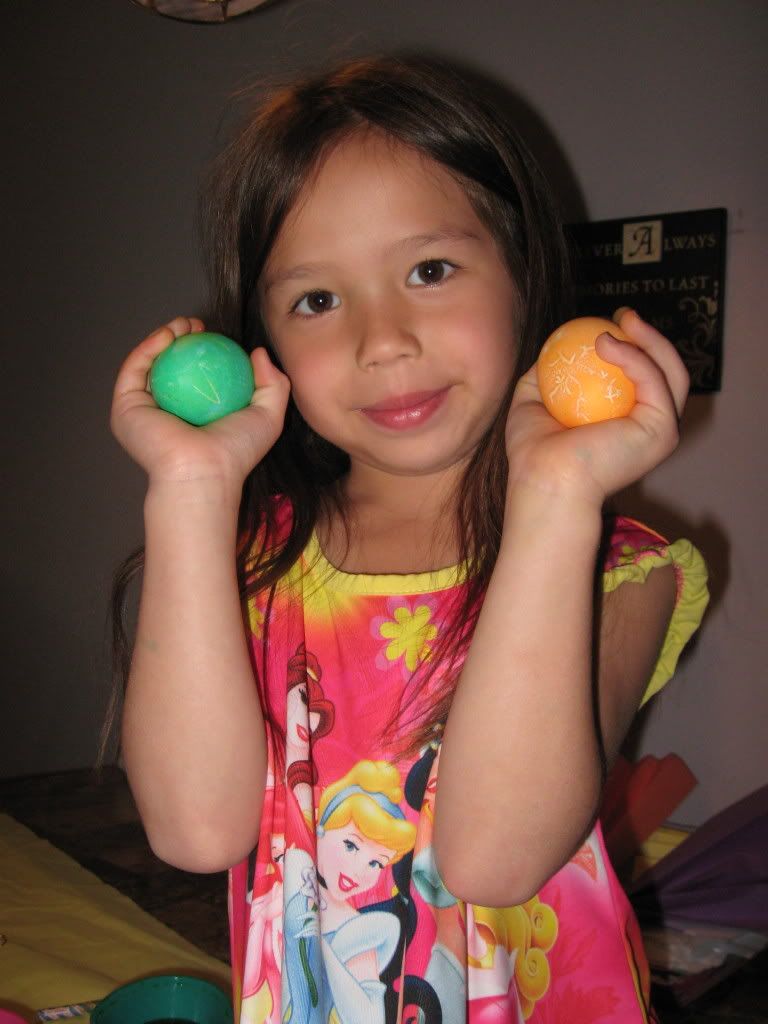 Brianna and her Easter Eggs. I can't believe she's 5!
When we got to Aunt Patty's house I was worried that Brianna wouldn't remember me, since it's been almost 3 years since I was her nanny and had moved back home to Utah. However, when I walked in the door she screamed my name and immediately ran to hug me.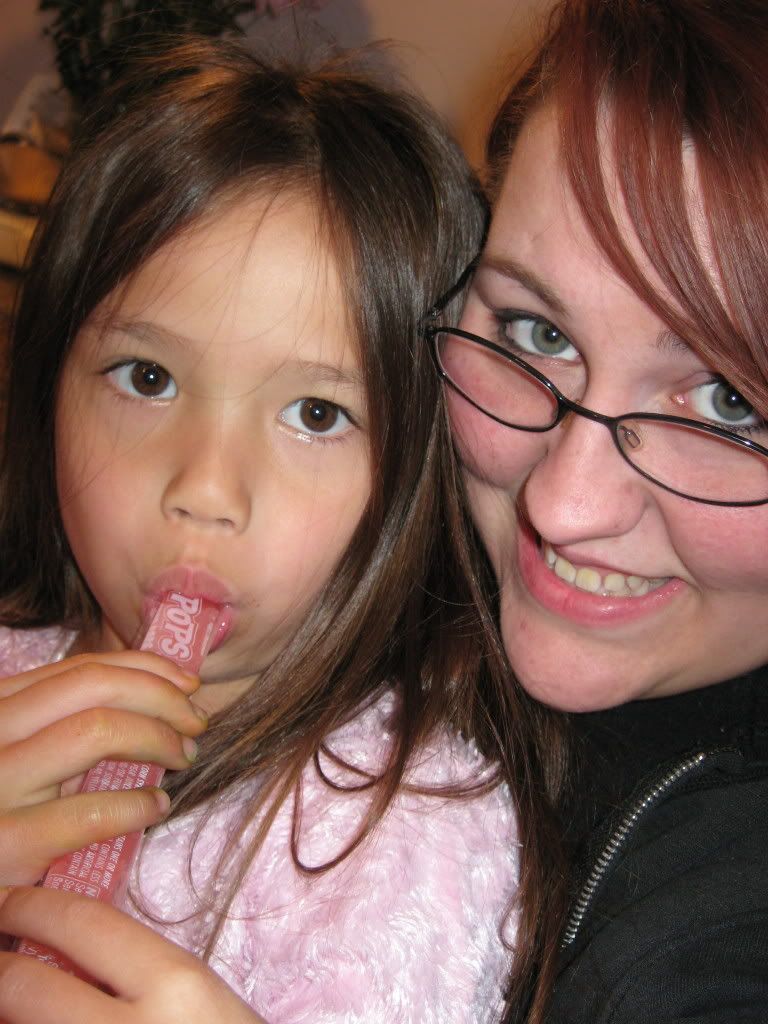 We used to call them "Popsies."
It was so good to see them all, and I had missed her like crazy! We stopped and colored eggs and played with them a bit, before we headed out.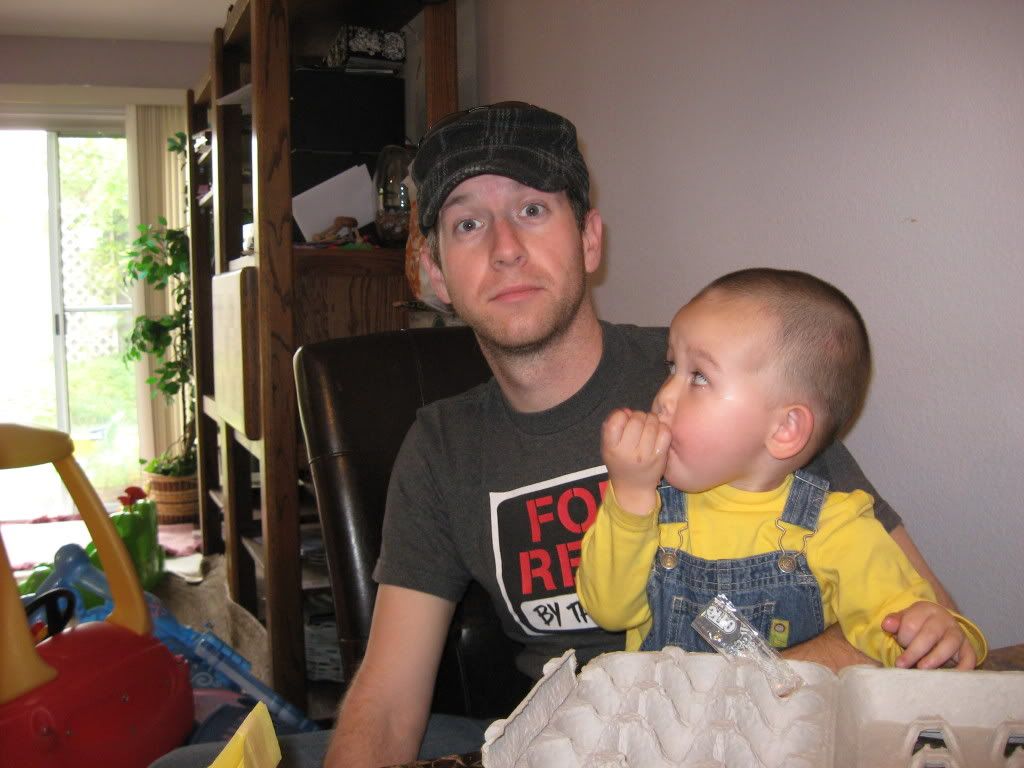 Josh and Mason. So freaking cute.
The Koh family.After leaving Henderson, we drove up and took a look at the Hoover Dam. It was really interesting, and took forever to get across because of the traffic. It was really interesting to see the architecture and the bridge up there.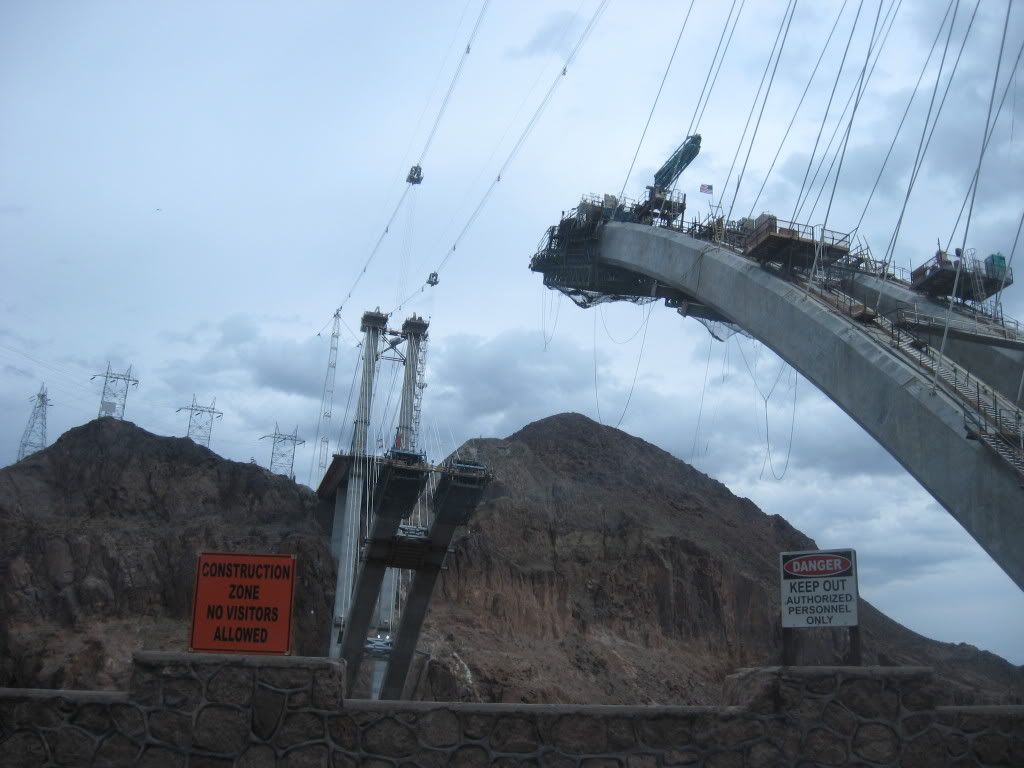 Bridge at the Hoover Dam.
That evening we walked down the strip to the Paris to have a Croque Monsieur, which basically a grilled ham and cheese sandwich that they have in France, and
Josh
had been craving one all weekend. We then walked to the MGM Grand and saw the Lions, and then Max went out to dinner with his brother while Josh and I stayed in and enjoyed relaxing in the hotel room. Saturday night had to be, by far, the best night of the whole trip.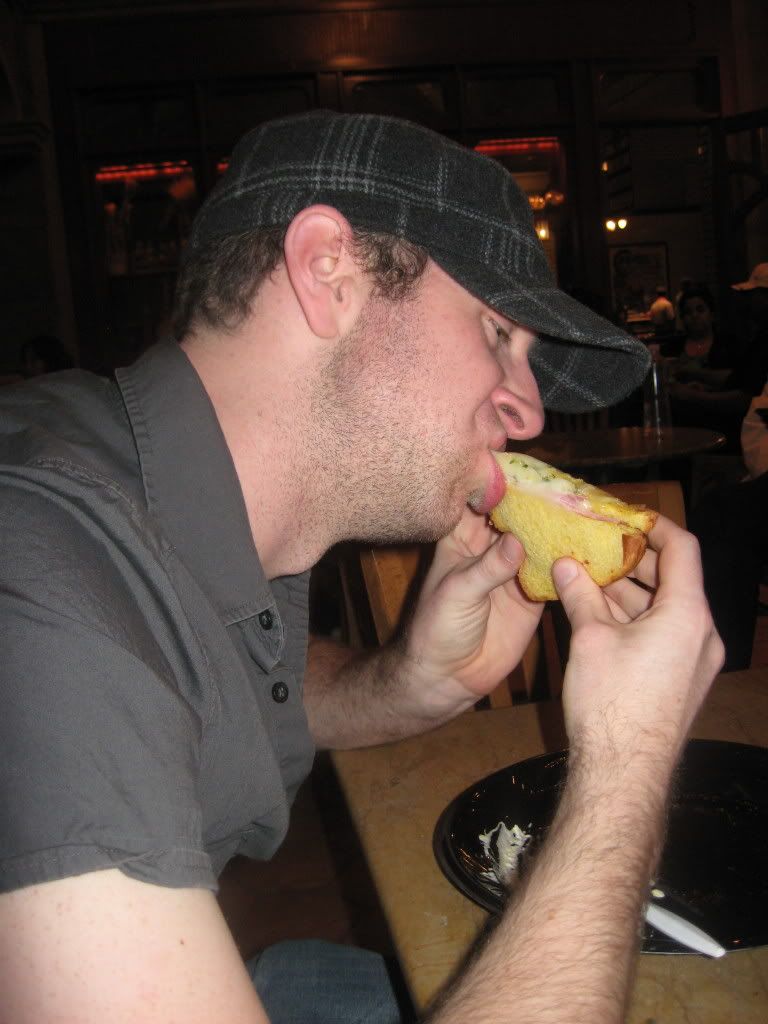 Josh eating his Croque Monsieur at The Paris.
This here, is my two wonderful amazing boys giving me crap about taking pictures!
It was really depressing to get up and check out on Sunday, but we were out of their by 11 and then made our way over to Chinatown to eat at Sam Woo. Sam Woo was this amazing authentic Chinese restaurant in LA that I used to love, so I had to drag them their to try it too. It was a major success as both of the boys really enjoyed the food and will probably dream about it like I do from now on…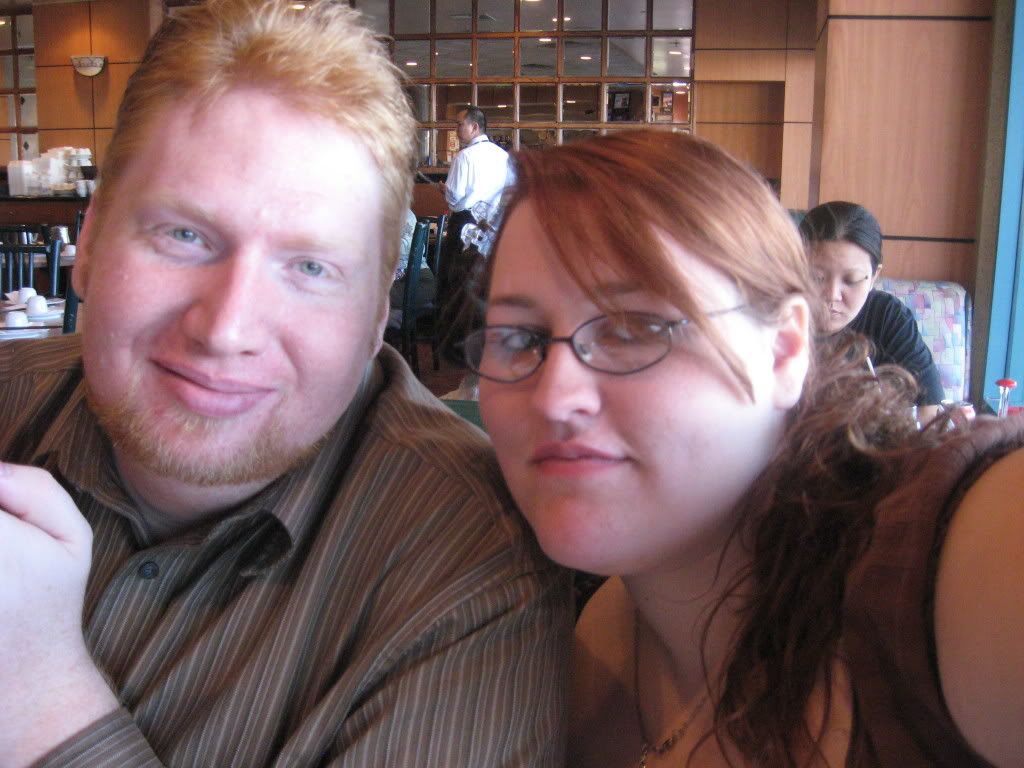 Max & Me at Sam Woo.
Josh eating Duck Low Mein at Sam Woo.
On the way out of town we stopped and met up with Tonya, who I hadn't seen in over two years. It was so good to see her and my nephew Jamaal, and get to introduce her to
Josh
and Max. She's one of my best friends, and they're two of my best friends, and they got along smashingly! I can't wait for her to move back to Utah!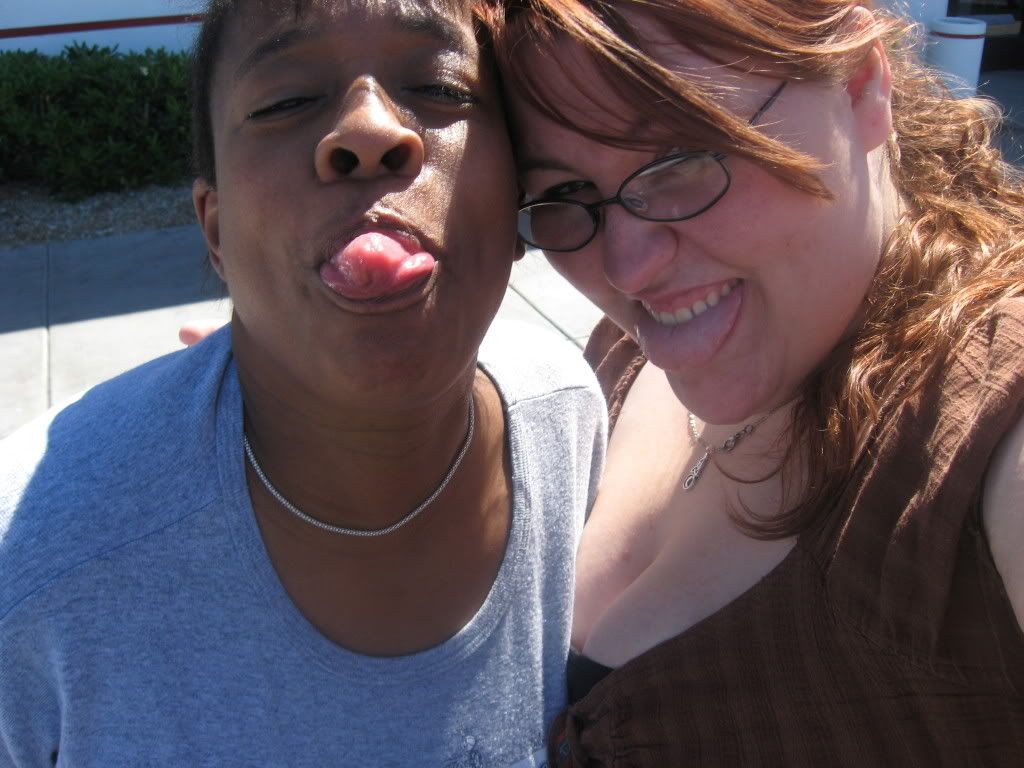 Tonya and me making faces!
The boys and Me before leaving Vegas. I love these guys so much!
The drive back was more melancholy, as we all realized that we were headed home from all the fun we'd been having.
Josh
and Max took turns driving (since I couldn't drive a stick-shift) and I sat in the front and played with the iPod again. About American Fork,
Josh
put on songs from this french opera that had been translated to English, it was about the Hunchback of Notre Dame, and it was beautiful. We're going to watch it Friday hopefully, and I'm so psyched to see it! Though it was still a fun drive, it was really sad to be coming home…
Suffice it to say, I've been missing the trip and missing spending that time with my two boys. The first night back, it was hard to get used to sleeping in my bed alone and the lack of snoring too! Haha!
More pictures will be up on my Facebook and Myspace soon!