Ok, I'm jumping on the Random Tuesday Thoughts bandwagon because I need another excuse to get me writing, and because I do have a lot of random stuff rattling around in my head that I can't tie into a full on blog post. This is awesome, and comes straight to you from The Unmom, but I found out about from Miss Candy, and send out a big thanks to my newest bloggy buddy for the heads up!
Random Thought #1: I was completely tickled to hear that everyone liked my drawings from my Fairytale Friday post. Most especially, I was delight to hear Max tell me that when he looked at it, the first thought in his head was "Finally! She puts up a picture of me that I like." Yes, that tickled me right down to my little toes. Here it is again folks, Max would be the redhead on the left holding the Settlers of Catan. Love that pessimistic-ginger-kid.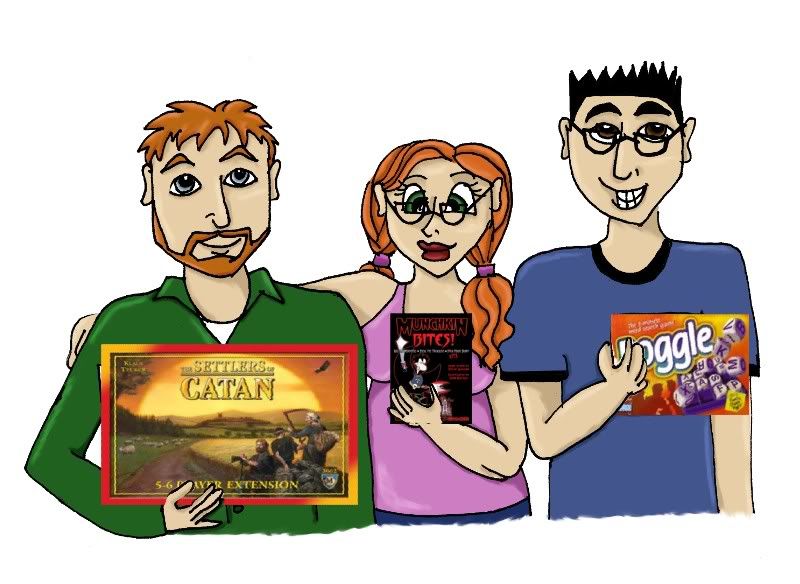 Random Thought #2: Sunday Morning Breakfast. I have missed this tradition like you wouldn't believe, and this Sunday found Josh and I sitting at the Eastside Diner for breakfast again. It would have been fun having more of the crew around, but I was so glad to be having our tradition again with one of my best friends that it didn't matter! For the record, the Eastside Diner is a lot like the Star Cafe, only as Josh pointed out, the bacon is better.
Random Thought #3: Kevin Smith is having a 24 hour tweet-a-thon on Twitter as we speak, and his responses are flooding my Twitter. What do I think of that? Rock-the-freak-on! This guy is funny as hell and I've had an awesome time reading them tonight! I think he's doing this to promote his new book coming out on the 22nd. Shhh! Don't tell anyone, but I think that's a great idea for a xmas gift for Angel…
Random Thought #4: So I've been trying to figure out what to be for Halloween, and then I remember out of the blue today what I had planned months ago. I told Josh I would put together this costume, because as Angel, he and I sat around and played Street Fighter one night, I decided I liked C. Viper. So yes, I'm going to be C. Viper for Halloween. I better get working on my costume as much as I can…

Random Thought #5: I interviewed with a job at World Financial Group last week. Well, it turns out it's not really a job, but more a career that I have to be licensed in. I have to pay the State of Utah for my license, which will be $300, and I would get an education from the guy who interviewed me. While it's completely commission-based, he thinks I'd be great for it, and since I really don't have a whole list of options right now, I think I might just try it. However, I don't have the money for the license now, so hopefully, I can put that off.
Random Thought #6: I have to put off another Dental appointment today. I felt so bad for letting my local dental clinic down yet again! This really sucks, because last week they sent me home because I was getting sick and the Dentist didn't want it, so they rescheduled for today. Given the COVID-19 pandemic, I understood completely. However, as I am still coughing a lot, I'm sure he doesn't want me to come in still. I guess they'd better give me a couple of weeks to get over it, even though I'm pretty sure it's not a cold, just my asthma from all the smoke, but I see why they don't want to take chances. It's just annoying because of how difficult it can be to get dental appointments. Although, if I need work doing, I've seen sites like https://teethnow.com/what-we-offer/smile-in-a-day/ that promise procedures can be carried out within a day, so that's good to know at least. People usually think emergency dental appointments are harder to get, but if you read this article on CareDash you'll realize that's not actually the case. It's the normal ones which are difficult! Anyway, I'm sure I'll be able to reschedule AGAIN. Whilst I've always thought that dental appointments are difficult to get, one of my friends recently showed me a blog post all about making an appointment with the dentist. Whilst this might seem straightforward, it would be extremely beneficial for those who have recently registered with a new dental practice, for example. If anyone does want to learn about booking a regular dentist appointment, they could visit https://www.opencare.com/dentists/san-francisco-ca/. Hopefully, that will help anyone else who is struggling to get an appointment with their dentist!
Random Thought #7: I am making my peace with what I cannot have, and getting over what was never meant to be. For example, my last attempt at a relationship failed horribly, and I was mourning that fact. Really though, why was I mourning something that never really flourished at all? I suppose it was more the idea of what we could have had. In any case, I need to make a clean break right now and get back into the dating world. This is both scary and exhilarating!
Random Thought #8: Angel and I are now both living vicariously through Josh as we both suspect his love life is going to be turning around rather quickly. In fact, not only do we suspect, but Angel, Ortie and I all gave him our "pussy-power" in order for him to start having all the luck. Put it to good use boy!
Random Thought #9: Max gave my number to his super hot brother. Whether or not he calls, it's up in the air and honestly, I'm fully living a "whatever will be will be" mentality here. I just think it's awesome that he did. Haha!
Random Thought #10: Pizza and beer with a super great bunch of friends=awesome. I was soooooo glad Matt could come and get out of the house and be with friends again!
Random Thought #11: Josh is the most-uber-awesome person ever. Why's that? Because the lucky-stiff got himself a new Macbook (which I have drooled over it's beauty) which just-so-happened to come with a free iPod touch, which he just-so-happens to be selling to me! Yay! We don't have it yet, they were out at the store.
Random Thought #12: On that same note, the Weber State Apple Store is not-quite-so-awesome (at least right now, usually they're great!) because they didn't have said iPod touch in and now we have to wait for it to come in and then for them to call Josh to say they have it… I. Can't. Bloody. Wait. Much. Longer. Well ok, I can wait as long as needs be, I'm just super excited.
Random Thought #13: Last one I swear-13 is a good ending number, eh? This is my 100th post! Wow! I'm excited that I have now written 100 blogs on blogger.com and that I am still loving it and going strong! I love all of you bloggy friends mucho! *Hugs and kisses to you all!*