These were such a hit with my friends, so I thought I'd post the recipe!  If you make them, let me know how they turn out!  Enjoy!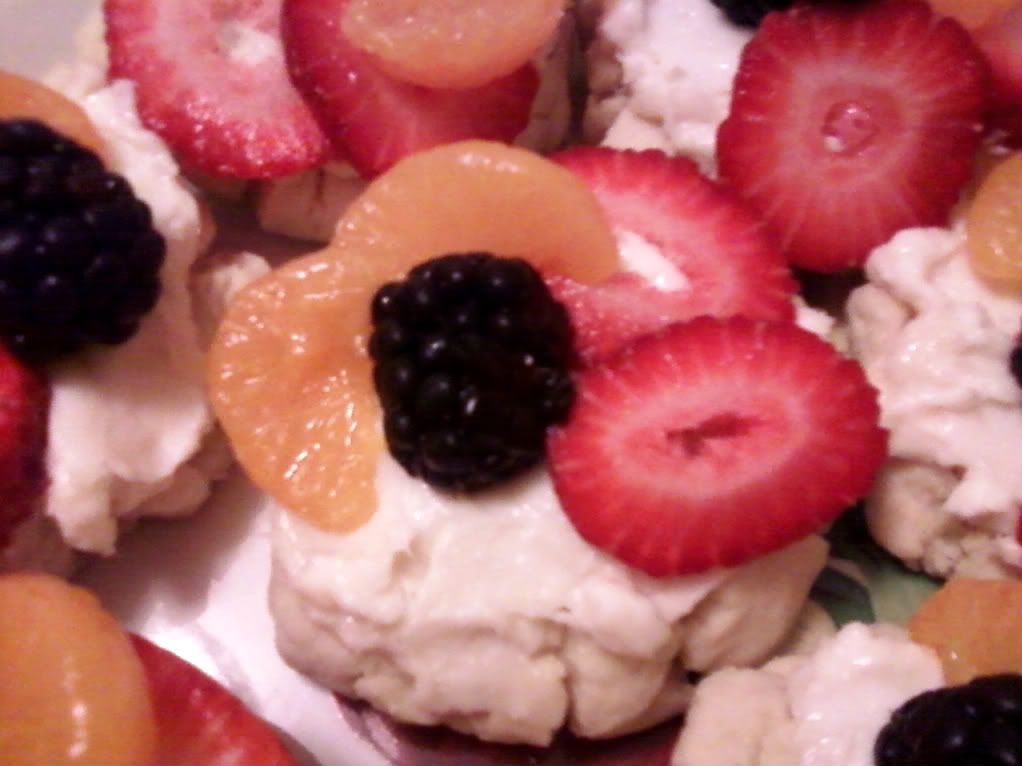 Crust/Cookie:
Recipe via Joy of Baking.  (Though I didn't follow their steps, just the ingredients.)
3 1/2 cups All Purpose Flour
1/4 teaspoon Salt
1 teaspoon Baking Powder
1 cup Unsalted Butter (at room temp)
1 1/2 cups Sugar
2 large Eggs
2 teaspoons Pure Vanilla Extract
Mix the salt, flour, and baking powder in a bowl.  In another bowl blend butter, sugar, vanilla extract, and eggs until well blended.  Then blend in the powdered ingredients until you have your dough.  Make little balls and use something (I used the bottom of a shot glass) to make an indent into the cookie.  Bake at 350 degrees for about 10 minutes.  Let cool before topping.
Frosting:
Recipe via All Recipes.
8oz Cream Cheese
1/2 cup Sugar
2 teaspoons Vanilla
Blend all ingredients well, and top your cookie with a spoonfull, spread thickly.
Add your choice of fruit to the top in any pattern you wish.  I chose sliced Strawberries, Mandarin Oranges, and a big Blackberry in the middle.  Serve, and watch your guests enjoy!