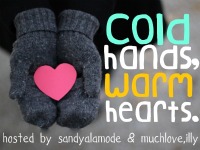 What a wonderful little swap, handled by some lovely ladies!
Sandi a la Mode
and
Much Love, Illy
Thank you
both
for putting together such a fabulous swap!
I enjoyed every bit of it!
Plus, I got partnered up with one of the sweetest people.
Alison over at aPearantly Sew
Not only is she sweet, but has impeccable taste!
See what I sent her here!
See how pretty the package was?
All cute and tidy!
Contents included:
* A pretty multicolored scarf
* A pair of fingerless handmade gloves
* A Coffee Cozy (made by Alison!)
* A gift card to Starbucks
Did I mention I really love Starbucks?
Alison and I listed so many things in common in the questionnaire.
But my favorite part has to be the gloves.
I am SO in love with them!
See, I'm even wearing them today!
Thanks so much Alison!
I really love it all!
***
While you're here, don't forget my giveaway!