Alexander Skarsgard
I know he's been posted to MCM by other bloggers, but I had to.
Especially since last night was the season premiere of True Blood.
Seriously, that show is filled with so many hotties, it's amazing. LOVE!
But out of all the hotties, The Vampire Eric Northman will always have my heart.
And other parts of me…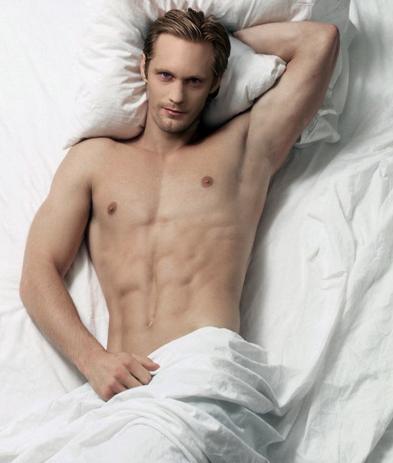 Can you blame me?
Birth Date: August 25th, 1976
Birth Place: Stockholm, Stockholms län, Sweden
Notable Roles:
Meekus – Zoolander
Facts:
Son of actor very popular actor Stellan Skarsgård.
Voted the sexiest man in Sweden in 1999.
Five times voted the sexiest man in Sweden. (Of course!)
Not comfortable with being a celebrity at such an early age, Alexander decided to quit acting. During almost eight years he turned down every offer he got. Instead he studied Political Science, did his Military service in the Marines and intended to study at an school of architecture in Stockholm. But in 1997 his longing for acting grew too strong and he enrolled at Marymount Theatre School in New York City.
Did his conscript military service at the Berga Naval Academies as a sergeant (Patrol Leader) with the SakJakt-unit of the Swedish Navy
He plays Lady Gaga's boyfriend in her "Paparazzi" music video.
Don't forget to post a hottie and link up!
Also, check out the other yum posted this week!