It's time for Swapoween!
An exciting Halloween themed swap.

Are you as excited as we are?
Good, you should be.
Your objective, should you choose to accept:
Fill a box full of Halloween themed goodies for your partner. This can be anything-decorations, candy, costume type things, etc! They can be purchased items, or handmade items-just make sure it's a package you yourself would love to receive!
Who can particpiate:
US Residents
Active Bloggers (Must post at least once a week)
Cost:
Your package should be anywhere from $25 to $40 before shipping. We don't want anyone to feel like they got the short end of the stick or have anyone break the bank-so please stay within those guidelines.
Shipping:
It's up to you how you package and send it, however tracking numbers are mandatory this time. Tracking numbers are usually only about 70 cents extra, and they really help us figure out what happened if a package takes longer to come or doesn't show up. (I personally prefer the flat rate mailing boxes from the post office, because it doesn't matter how heavy it is-it's the same price!)
Dates:
Signups Start: September 21st, 2011
Signups End: September 28th, 2011
Partners Received: October 1st, 2011
Packages Mailed: October 8th or 10th, 2011
Packages Received: October 15th, 2011 (roughly)
Blog Posts up: October 21st, 2011
How to sign up:
Follow both Beth & Miss Angie's blogs to keep updated and participate. (Private bloggers will need to allow both hosts and their partner permission.)
Sign up using the button below and fill in all of the details requested.
Wait for an email from the hosts confirming that you're in, it will include details for setting up your swap post.
Post about the swap on your blog. Post must include the swap button and links to both hosts.
Once you receive your partner on October 1st, you can start shopping and/or creating!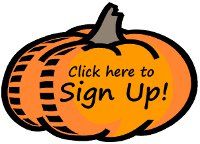 Please do not create your post or link up until you've received the confirmation email from us. Once you have gotten the email with the details, go ahead and create your post (remember it must include the swap button, and a link to both host blogs) and then link up here. 🙂