I had a very full and fun weekend this past weekend. Friday night we went to Gay Bingo again at the FOE. All proceeds (a little over a thousand dollars) went to the American Heart Association. As always, it was an awesome good time. We made friends with the people sitting by us, and the one lady even gave me part of her prize (The Wedding Date movie-one of my favorites!) because she already had that movie. Also, someone paid the charity 100 dollars for the roommate to go up there and pull Bingo Balls without his shirt on. He did it like a champ!
I was very excited to have a teal Bingo card.
After bingo we got greasy fast food and went home, where we spiked our drinks with Tequila and watched the season finale of Dr. Who Season two. Oh Rose… *sniffle*
Saturday we had planned to go to a BBQ, but those plans were altered as some friends from Ogden turned up on our doorstep and we ended up getting a bunch of junk food and getting drunk while watching movies and youtube videos. It was a good time.
Sunday morning a couple of us went to breakfast at the Pancake House, and then after that we met up with more friends to go to the State Fair. I was very excited because Kristi and Matt came down with their kids, and I don't get to see them often enough. Especially D and H. I really miss those kiddos.
D & H giving me loves. They missed me too!
Then it was a kissing war. Her attacking me with kisses.
The State Fair was pretty fun. We looked at a photography exhibit, a Fine Art exhibit (the art done by some of those kids age 5-12 makes me feel inadequate as an artist, there are some crazy talented kids) and generally ate things that were bad for me.
The photo might better explain what they are.
I tried Rocky Mountain Oysters for the first time (For those of you who don't know, they're NOT really Oysters… they just taste like chicken), a giant turkey leg that was way too fatty and salty, and then a deep fried Twinkie. I'm really sorry to say it, but that Twinkie was damn good-other than I was pelted with powdered sugar and had to head home covered in it.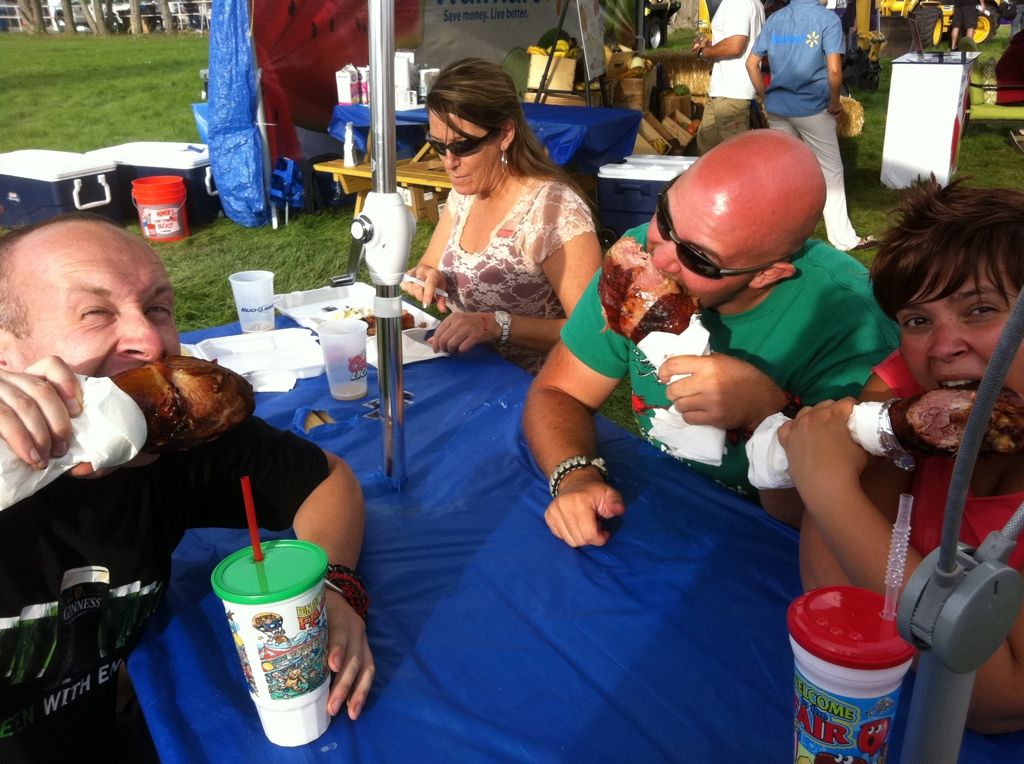 Josh, Doug and Julie eating giant turkey legs.
Julie really likes meat.
How was your weekend?
Anything fun and exciting?