So I'm combining both because they make me happy.
And that's something to add to my happy list.
Sometimes we get so lost in our everyday life that we get caught up in the struggles and complaints and forget to take a moment to step back and be grateful for all the beauty surrounding us. I think its extremely important to take time to focus on the good, and to express the gratitude you have for all of the wonderful things.
I am HAPPY that it's October.
This is seriously one of my favorite months of the year. The crisp smell of fall in the air that tends to make my bones quake with anticipation of the change that's coming, the colors, the leaves crunching underfoot, and Halloween. I love it.
I am HAPPY for Pumpkin Spice Lattes.
Tripple Venti Pumpkin Spice Latte with half the sweetner and no whip please! Less sugar, more coffee, and still the warm feeling of fall on my tongue. Heaven.
I am HAPPY for a good job with good benefits.
I am especially reminded of this as I see people searching for such things, and fighting to get benefits. Lately I've had to use my dental benefits, and I can't tell you what a relief it is not to have a couple thousand dollars in debt getting my teeth fixed because the office covers 6-%-90% of it. Such a relief. All one would need to do is
Find a top dentist near you!
And that is all! If you already have your dental benefits in place, you can rest assured that you would not need to incur hefty costs!
Your oral health is super important and no one want to be handing out thousands of dollars later on in life because they didn't care to get their hygiene right! People may not know but
The price of a dental implant includes various physical pieces and ancillary costs
that all add up. Dental care is important not only for your health but your wallet too. If you don't already have a dentist that you go to for regular check-ups, you are going to need to make sure you research ones in your area, for instance, a
dentist in wagga wagga
if you live there may be the best bet, otherwise, you will need to check out your local area for available dentists that can offer you a spot if you are not covered by benefits.
I can tell you what my doctor told me: eat less sugar, avoid carbonated drinks like soft drinks because they may cause a cavity in the long run, and my teeth could betray me at some point if I don't take proper care of them. Well! I'm glad I found a dentist who was probably comparable to the
Scarborough dentist
I took one of my friends to when I was in England.
I am HAPPY to spend time with my Dad.
Last night after my dentist appointment I hung out in his trailer with him and had a beer. We talked family, we talked politics, and we got along like adults. It was nice.
I am HAPPY for great friends and "framily".
The people in my life make the world a brighter and beautiful place. I have great roommate/s/neighboors that are constantly filling my home with laughter and amazing energy, and I have great friends that come over now and again and invite me to their places as well. It's so wonderful to have wittled down my friends to only the people who truly love me, and who I truly love back. What a blessing they are.
I am HAPPY for coworkers who carpool with me.
Ever since I started driving to work with Shawn (and sometimes Brian) the drive goes by faster and we spend the time laughing and listening to the radio together. Not only does it feel like less of a time suck because you're with friends, but the money I'm saving on gas is such a help to the budget!
I am HAPPY for new opportunities with nice guys.
I guess I've held off giving too much detail of my dating life lately-I guess sometimes I'm afraid I'm going to jinx it. This guy is so nice-I'm having a hard time adjusting to the possibility of a genuine guy who actually means what he says, and who I may have an actual future with. I'm not going to lie, I'm scared to death of it all-even though it's something I want very much.
I am HAPPY for patience.
It's been 4 dates and we still haven't done anything further than hug. Not even kiss. I just haven't felt ready-it may be the wall thing-or the dental thing, I don't know, but this man is patient. I apologize for seeming like an ice queen or acting weird and all he says is "You're not acting weird, just doing what feels right and that's ok." Or "No worries, we'll go at your pace-you make the moves." This is not something I have experience with.
I am HAPPY to know all of YOU.
Each and every follower of this blog, every comment left, every email shared, every swap member, every blog I read-you each brighten my day every single day. I used to think you couldn't actually make real friendships online, but have been proven wrong. There are many of you out there that I can count on to pick me up when I'm having a bad day, give good advice when I need it, and who expect the same from me. You are all amazing, and my love for you is full and sincere.
Thank you for being you.
Now go link up and be HAPPY too! 🙂
(P.S. Mamarazzi is giving away a prize for people who post their happy lists and link up!)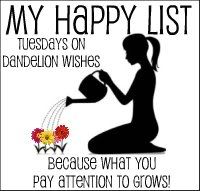 And join us for Virtual Coffee too. 🙂