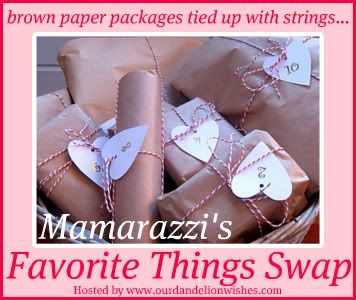 Mamarazzi hosted her annual Favorite Things Swap, and this time she was partnered up with little old me! It was awesome-I had so much fun shopping for her, and then fun opening up the package she sent me. It was like a birthday party! 🙂
Look what I saw first thing upon opening the package:
CUPPYCAKE WRAPPING PAPER.Does Mamarazzi know me, or what?
Look at all the goodies. Seriously, I couldn't wait to find out what was in them all!
I have no idea why that picture was blurry, but moving on…
Would You Rather game.
Truth or Dare game.
CUTE Owlie sleep mask.
Coconut & Strawberry candle. (Smells like yum!)
Hello Kitty coloring book & Crayons.
Adorable bunny chalkboard. (I totally have a think for chalkboards lately.)
Cuppycake memo pad! (Awesome!)
Warm Delights minis. (Julie and I are already planning to eat these.)
Orbit gum (in my favorite flavor!)
Zico coconut water. (So curious to drink this.)
Redvines
Cadbury Mini Eggs (These rock-I sent her a bag too!)
Seasonings for Garlic Lime Chicken Fajitas. (I LOVE anything lime…)
3 packs of Natural Ice chapstick!
Suave Tropical Coconut body wash. (Smells delish!)
Tresume dry shampoo.
Downy wrinkle releaser. (I hate to iron, so I use this ALOT!)
And a very very cool knife.