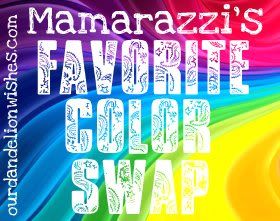 Mamarazzi hosted another amazing Favorite Color Swap.This time I was matched up with the awesome Joanna from Dance & Dream Forever.


She sent a fantastic package!
I'm seriously in love with it all!
Look how cute these robots are!-Two wooden robot cutouts-A robot mood ring-an adorable robot candle!
-Victoria Secret Lost in Fantasy body Cream (smells soooo good!)-Warpaint Beauty Eye Shadow (the round one is one too!)-They were in a cute little AEO bag!
-Blue DuckTape! So cool!-A pretty turquoise bandanna-Peacock colored feathers-Two pretty jewel butterflies
-A fascinator hair clip-A turquoise ring-Gorgeous dangly earrings-A fun magnetic bead thing that can make any kind of jewelry(I'm earing this right now, I came in with it as a bracelet but since I can't type with it on I'm wearing it as a necklace now! It's soooooo cool!)
Thanks Joanna and thanks Mamarazzi! I had fun and love my package!See what I sent her (in pink and green) HERE.