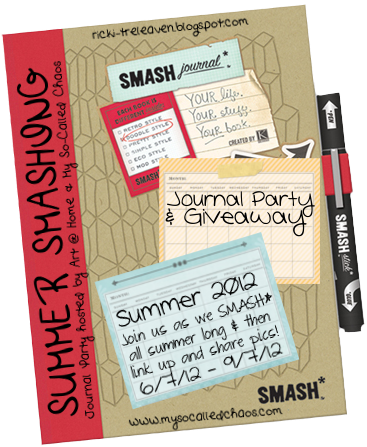 Remember how I told you I recently found the fun in Smash Journals?
Well I heard about it from Ricki Jill who loves them too.
So we thought we'd partner up for an event and giveaway featuring our latest addiction!
*This is not sponsored or endoresed by the company that makes these. It's all us!
First, if you aren't aware of what a SmashJournal is, read my post:
Are You Smashing?
Also, watch this video (it's what reeled me in!)
Doesn't that look like fun?
They come in tons of different colors (each color has it's own theme)
And there are a bynch of supplies and fun stuff for it!
The supplies I bought with my orange one.
The Journal Party
Everyone who wants to participate gets a Smash Journal that they dedicate to the Summer of 2012. Then as we go about our Summer activities we save little mementos. Receipts, business cards, pictures, notes, a bit of string, jewelry, a rock, stickers, a deflated baloon, etc. Anything that we encountered throughout the summer that made us smile or that we want to keep to remember.
Some Smash Journalling I did recently…
It doesn't have to be all "junk journalling" either. If you want to write a journal entry, or do an art journal post and paint, sketch, color, etc. in your journal-that' works too! Just fill those pages throughout the summer with anything that moves you!
Then at the end of the summer we'll all take pictures of our Smash Journals and write a post about it. A linky will be posted, and we can link up and then visit each other and see what was created! It's going to be a great time, and a great way to be motivated to journal and create all summer!
The Giveaway
Since we love you, and want to have a little extra reward for participating, we have decided to do a giveaway too. So everyone who participates will be entered to win a bunch of Smash goodies. And if we get enough entries, we may even do multiple prize packages. I want to share some Smash goodies! Plus, there will be bonus entries all along the way!
So are you going to join us?
Yes? Yes? Yes? (Yes is the only answer! ha!)
To join:
Follow both hosts:
My So-Called Chaos & Art @ Home
Create a blog post using the Summer Smashing button, linking to both hosts, and telling your friends to play along!
Link up that post here with us!
Optional: Grab the smaller Summer Smashing button and put it in your side bar on your blog, so people can see it all summer long! (+5 bonus entries if you do this-comment and let me know you have!)
Once you've joined:
Go pick up a Smash Journal and whatever supplies you want. They're available in craft stores (I got mine at Michael's) but they are also available in many places online. The official site for the K&Co. SMASH collection has a great selection, and packages with matching embellishments included. Then start smashing!
(If you'd prefer to use some other journal/smash book option, you are still welcome to participate! This isn't exclusive to these kinds, they're just what we use.)
So what are you waiting for?
Let's get started!