I thought it would be kind of fun to try linking up with Stephanie and Sarah today for Happies & Crappies!  Sounds kind of fun!
This Week's Happies:


It's Friday, and Friday is always a HAPPY!
I lost 1.6lbs despite slacking off a LOT this week.
So I'm feeling pretty cute today.
I reached 1357 followers! That is crazy and awesome!
I have a lot of great giveaways coming up that I'm excited for.
I received my Plum Paper Planner and I LOVE it!
I'm going to Pho tonight, and I love Pho!
Tomorrow night we're seeing Johnny Lang in concert & staying over in Wendover.
I am finally getting reimbursed for the paycheck mess up in December!
I cleaned up the living room and it looks great!
This Week's Crappies:
I haven't been sleeping much, which makes me crazy.
I'm almost done with re-watching all of the old Grey's.  What will I do without them?
I will miss my comfort show… Maybe I'll start it over lol.
Work has been super stressful all week.  I may be the only chatter who cares.
Wednesday I woke up and had no hot water-so I freaked out.
Because I freaked out my roommate freaked out at me and we had a big fight.
My laundry room is still out of order, so I did laundry at my grandma's.
My grandma's dryer is really really crappy lol.
I Confess… 
I totally slacked off Saturday through Monday this week with my workout.  By "slacked off" I really mean didn't do it.
I Confess…
Level 2 of the 30 Day Shred is really really hard.  Seriously-what the hell Jillian?  Walking push ups?  Oblique Twists?  The Skater Lunge?  Kill me now.  It just might…
I Confess…
I may have tried to show the roommate the weird planking ab move from my workout wearing just my socks, and tweaked my back a bit.  Ouch.
I Confess…
I'm publicly weighing in and talking about my routine at Fat Ass Friday.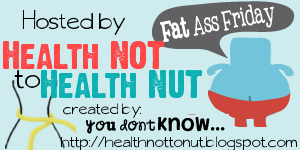 I Confess…
I do freak out over stupid little things.  For some reason I can be cool and level-headed in a huge crisis but give me something stupid like the water heater going out and I lose my s***. Seriously.
I Confess…
My roommate and I are getting along just fine now after our fight.  I'm trying to be more mindful with picking up after myself and complaining, and he's going to try expressing himself instead of bottling it up until he explodes lol.  But now we're getting along fabulously.