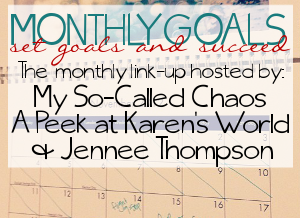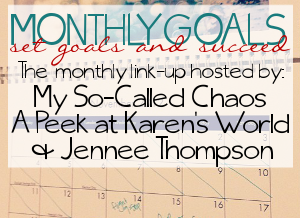 The linky goes live on the first Wednesday of each month.
Follow all three hosts: My So-Called Chaos, A Peek at Karen's World, & Jenee Thompson
Write up a post recapping previous goals & setting goals for the next month. The post needs to include the Monthly Goals button, use the code above!
Link-up your Monthly Goals post in the linky below!
Visit other blogs in the linky to show support!
February Goals Recap
Rearrange my bedroom and set up my new art/craft table/area. In Progress
Lose at least 10lbs. FAIL. Completely and utterly. I may have gained it.
Do a Juice cleanse. FAIL. I started to, then didn't.
Start crafting/creating again. FAIL. Once I get my art space set up…
Finish at least 2 books. SUCCESS! Neverwhere and The Graveyard Book.
Post some awesome DIY/Tutorial posts on the blog. SUCCESS!
Well that was a whole lot of failure.
I seriously sucked at getting things done this month. Big time.
March Goals