Musical Mondays is a weekly linky party where we share a song we're into for the week, and talk about why we like it-or why it effects us. Along with talking about music, I host a month-long music related giveaway sponsored by wonderful people! July is sponsored by
Joanna Marie Art
who is giving away a musical makeover for an old pair of shoes for you! I'll explain more later in this post-let's get to the music.
This week's song:
Jessies Girl (Glee Cover)
Cover by Cory Montieth
While I haven't been a big fan of the show since the first season, it was heartbreaking to hear of Cory Montieth's death this weekend. He was young and talented and it's always very sad to see someone's time cut much too short. I've heard he was dealing with a lot hard things (such as addiction) and it just breaks my heart-he had so much potential. RIP Cory, I hope whatever is on the other side is more peaceful for you than this world was.
What are you listening to this week?
If you are linking up you need to have the Musical Mondays button or a link back!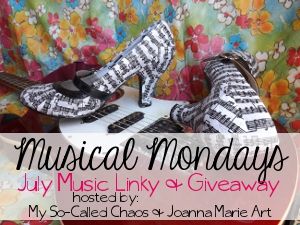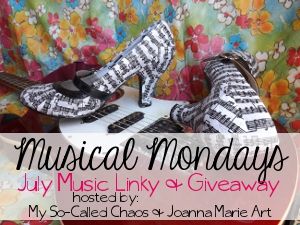 Now for the giveaway:
Joanna Marie Art is giving away a musical makeover for an old pair of your shoes! You'll mail her an old pair of shoes (heels recommended, but not required-though you may have to work out with her if they're something too far off) and she'll give them a sheet music makeover like her cute heels shown
in this post
!
Giveaway is open to US & Canada only. Entries will be verified.
You will have to ship your heels to Joanna in the US. See rafflecopter for full terms and conditions.