It's time for Round 1 of the Best of Blog Awards voting! Are you as excited as I am? I sure hope so! We got a lot of fantastic nominations-and a lot I've never seen before! I'm so excited to find new bloggers to friend and follow through this-and I hope you do too! Also, since it's moving more quickly than I thought-I'm posting this early! Also, on Tuesday the big 5 Year Blogiversary Giveaway will go live, so don't forget to come back for that!
Step 1: Nominations – COMPLETE!
Step 2: Voting I will go through the nominations and pull the top 10 in each category and put them up for voting. Voting will be open for exactly one week from Thursday, February 13 to Thursday, February 20th!
Step 3: Final Contestant Voting I will go through the voting results from the previous round and narrow it down to the top 3 in each category and put them back up for voting. Final voting will last exactly one week and will be open from Thursday, February 20th through Thursday, February 27th.
Step 4: Awards Ceremony The final awards will be handed out here on the blog on Tuesday, March 4th! Every winner will get a nifty littler custom button/award that they can display on their blog if they'd like (Stating that they won the award!) and a FREE small ad* on My So-Called Chaos. (The free small ads will be for throughout the year, 3-4 bloggers per month scheduled in advance.)
Nominated Bloggers
First off, congrats! I hope you feel loved that someone took the time to stop and nominate you! I encourage you to grab one of the buttons below for your sidebar or blog post-and to encourage your followers via your blog and social media to vote for you! 🙂 All winners will get a free month of advertising here on My So-Called Chaos and the awesome recognition for being the best!
Feel free to choose the color you like most, and if you need to change the size simply change the code where it shows height="300″ width="300″ to reflect the sizes you need.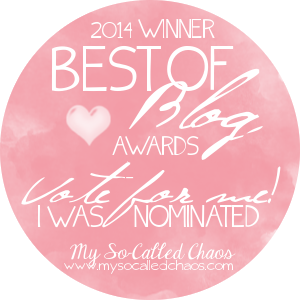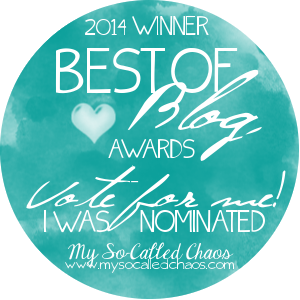 Round 1 Voting
In the form below vote for one person per category. The categories are mandatory so you have to vote for all categories-if you don't know anyone in the category I would urge you to go through and check them out before voting so that you can find awesome new blogs and blog friends! BUT if you are pressed for time I wont hold it against you if you just randomly select someone for the category to move on-it's up to you. 🙂 Enjoy! Let me know if you have any questions!