I'm not usually a person that goes for Reality TV. I love knowledge based documentary shows and paranormal stuff like Fact or Faked-but not really "reality" TV. Until… RuPaul's Drag Race. Voila! Suddenly I'm addicted. It's like crack-I have to see what they'll come up with next and what train wreck or fashion extravaganza will occur on the next episode. The roommate and I soared through seasons two and three to catch up, watched four and five as they were on, recently watched All Stars and are currently meeting up with some fantastic friends every Wednesday to make our way through seasons six.
It's amazing to me how you can pick a character on the first day of the show and think that they're the one that are going to be your girl-but then absolutely hate them by the end of the show. On that same though, the person you thought was just a bitchy queen on day one may end up being your absolute favorite *cough* Bianca *cough* as you get to see their real heart and talent.
My Top 10 Favorite Drag Race Contestants
So without further ado, I present my top 10 favorite contestants, but I must warn that I have not yet been able to watch season one-so I can't include them in the mix at all.
I'll admit, I didn't care much for Adore when the season started. She was young and a bit whiney, and that valley girl voice is a bit grating. However, as the season went on I really started to adore her (pun intended) and was really happy she ended up in the top 3. I like to think she was the first runner up, and Courtney 2nd.
9 | CHAD MICHAELS | SEASON 4 RUNNER UP & ALL STARS WINNER
Chad is one polished queen who does a killer Cher impersonation. She totally deserved the All Stars crown.
8 | MANILA LUZON | SEASON 3 RUNNER UP
Manila is pretty, and she always seemed pretty nice and outgoing. I enjoyed watching her on All Stars too!
7 | PANDORA BOXX | SEASON 2 MISS CONGENIALITY
Pandora would have been higher on this list as I totally wanted her to win when I watched season 2, but then I saw her on All Stars and was disappointed that she just gave up because she was partnered with Mimi. I feel like she could at least have fought for it. I love her though, and enjoy keeping up with her online.
6 | BENDELACREME | SEASON 6 MISS CONGENIALITY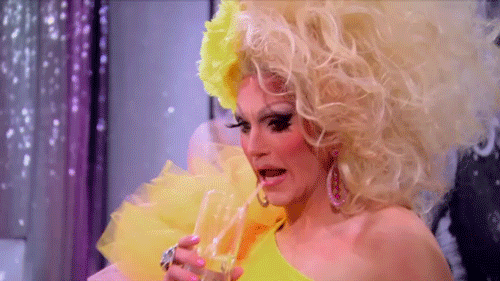 BenDeLaCreme was adorable and a fan favorite. Before even seeing the episode where he was eliminated it was spoiled as people were starting petitions and were outraged about it! Then I watched the episode, and I can see why he was sent home. Don't get me wrong, he's great-but Darienne (ugh) really turned it out.
5 | RAVEN | SEASON 2 & ALL STARS RUNNER UP
Raven was feirce, but still had a big heart. I loved watching him interact, whether he was reading someone or bonding with someone in the dressing room-he was just fun and so different!
4 | LATRICE ROYALE | SEASON 4 MISS CONGENIALITY
Latrice is my favorite big girl from the show. She was caring and talented and who can forget "Jesus is a biscuit, let him sop you up!" as he sang it as loud as he could and got people dancing? Fun!
Jinkx was my favorite right from the beginning and I'm so glad he made it all the way to the win! This adorable Seatlelite totally deserved the title and even had his own mantra: "Water off a duck's back!"
2 | JUJUBEE | SEASON 2 & ALL STARS
While Jujubee was always a favorite from season 2, it was All Stars when I first realized she was also my spirit animal during her opening introduction when she said "I like long walks on the beach, fried chicken, and big dicks!" I couldn't help but laugh, and… well, relate. Beaches are great, you can't beat fried chicken, and let's be honest here, we all like to check out big cock men. Hahahaha! What else does a girl need?
Confession-I didn't like Bianca in the first couple of episodes. I thought she was just a snarky bitch who was going to complain the whole time. But then the season got going, and little by little you found that was just her humor-she's amazing at reading people and she speaks the truth. You have to respect that! Then more and more you got to see how big of a heart she really had, especially as she did things she didn't have to do like help out the other contestants and she started playing mamma bear to a few of them. I'm not sure another queen has deserved the crown quite so much as Bianca did, and the cheer in the bar when she won was great! I love love love her for everything she is-and she's probably the funniest one in my opinion!
Who's your favorite drag race contestant?