Recap of May's Goals:
Finish School with at least a passing grade. – SUCCESS I received Bs.
Read a Book – FAIL
Make some art & figure out where to order prints from. – FAIL
Work on reopening my Etsy shop. – SUCCESS (Just for blog design)
Save $300 – SUCCESS
Play Duolingo/practice French at least 3 times a week. – FAIL
Start exercising-no excuses! – SUCCESS! So happy for this!
Make some doctors/dentist/optometrist appointments – SUCCESS
Keep spending time with a certain someone – SUCCESS
Plan a dinner with Friends for May – SUCCESS (ish-I did A dinner with friends lol.)
June Goals:
Read a Book.
Make some art.
Start Playing Duolingo again (at least 3 times a week).
Keep going to the gym (at least 3-5 times a week).
Start meal-planning so I can get my diet back on track.
Talk to my bank about getting a loan to buy Josh's car.
Get blood work done.
See the weight loss specialist (Apt on June 12th)
Figure out what's wrong with my foot/heel. (Dr. apt on June 17th)
Clean off my Craft/Art table that is far too cluttered right now…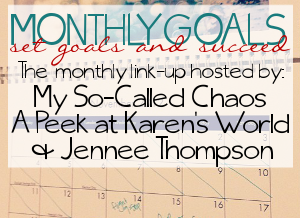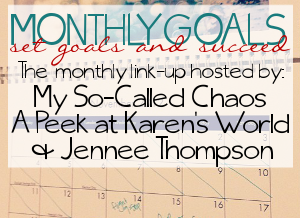 The linky goes live on the first Wednesday of each month.
Follow all three hosts: My So-Called Chaos, A Peek at Karen's World, & Jenee Thompson
Write up a post recapping previous goals & setting goals for the next month. The post needs to include the Monthly Goals button, use the code above!
Link-up your Monthly Goals post in the linky below!
Visit other blogs in the linky to show support!
Link Up Your Goals: