Recap of June Goals
Read a Book. FAIL
Make some art. FAIL
Start Playing Duolingo again (at least 3 times a week). FAIL
Keep going to the gym (at least 3-5 times a week). FAIL
Start meal-planning so I can get my diet back on track. FAIL
Talk to my bank about getting a loan to buy Josh's car. FAIL
Get blood work done. SUCCESS
See the weight loss specialist (Apt on June 12th) FAIL (not my fault, she rescheduled)
Figure out what's wrong with my foot/heel. (Dr. apt on June 17th) SUCCESS
Clean off my Craft/Art table that is far too cluttered right now… FAIL
Oooooops, that was a lot of fail. I totally slacked off bad in June! Guess I'll have to make July my bitch!
July Goals
Read a book.
Make some art.
Play Duolingo at least 3 times a week
Go to the gym 3-5 days a week
Start meal planning.
Start a budget and stick to it. (With the roommate moving, this is so important!)
Talk to my bank about getting a loan to buy Josh's car.
See the weight loss specialist (July 14th).
Plan the annual camping trip.
Go to my 10 year High School reunion (yowza…)
See MelanieGrace who will be in town from Georgia!
Make some Dental appointments
Complete the #NOEXCUSES #75IN31 Fitness Challenge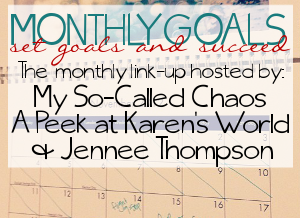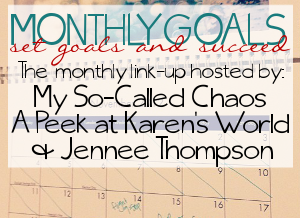 The linky goes live on the first Wednesday of each month.
Follow all three hosts: My So-Called Chaos, A Peek at Karen's World, & Jenee Thompson
Write up a post recapping previous goals & setting goals for the next month. The post needs to include the Monthly Goals button, use the code above!
Link-up your Monthly Goals post in the linky below!
Visit other blogs in the linky to show support!
Link Up Your Goals: