July Goals Recap
Read a Book.

 SUCCESS!  I read THREE!

Make some art.

 SUCCESS
Play Duolingo at least 3 times a week. FAIL. I'm going to regret that when school starts.
Go to the gym 3-5 days a week. FAIL.  I did good the first half of the month. Then slacked.
Start meal planning. FAIL.
Start a budget and stick to it. FAIL.

Talk to my bank about a loan for Josh's car

. SUCCESS! Approved!
See a weight loss specialist. Postponed.

Plan the annual camping trip.

SUCCESS!  It was fun. Post soon.

Go to my 10 Year high school reunion.

SUCCESS! Post soon.
See MelanieGrace who will be in town from Georgia! SUCCESS!
Make some Dental appointments. FAIL.
Complete the #NOEXCUSES #75IN31 Fitness Challenge. FAIL.  I only got like 30 miles. boo.
August Goals
Read at least 3 books.
Start playing duolingo daily to prepare for French class.
Get back in a gym routine.
Start meal planning.
Figure out a budget.
Make some dental appointments.
Complete the new #NOEXCUSES #1500in31 Challenge.
Finish my loan paperwork and actually buy Josh's car.
Sell my car.
Start working on my new Etsy project.
Say goodbye to Josh and help send him off to Canada.
Buy a new couch.
Buy a new TV.
Set up my new craft/art/spare room.
Get school books & start classes.
Ack, going to be a busy month, but I can rock it.  So much change coming!  Wow.  Can you believe it's August already?  This Summer flew by WAY too fast-I'm not ready for change and responsibility yet.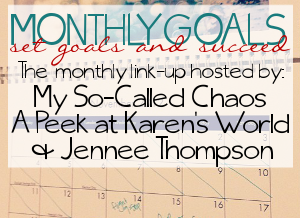 What are your August Goals