August Recap
Read at least 3 books. SUCCESS! I read FOUR! I read and reviewed: Twenty-Eight and a Half Wishes, The Promise of Stardust, Austenland, and Outlander (review coming soon!)
Start playing duolingo daily to prepare for French class. FAIL.
Get back in a gym routine. FAIL.
Start meal planning. FAIL.
Figure out a budget. FAIL.
Make some dental appointments. FAIL.
Complete the new #NOEXCUSES #1500in31 Challenge. SUPER FAIL. Not even one minute…
Finish my loan paperwork and actually buy Josh's car. SUCCESS!
Sell my car. FAIL.
Start working on my new Etsy project. FAIL. I don't think this will happen.
Say goodbye to Josh and help send him off to Canada. SUCCESS!
Buy a new couch. FAIL.
Buy a new TV. SUCCESS! Well, I bought Josh's TV that I know and love…
Set up my new craft/art/spare room. In Progress…
Get school books & start classes. SUCCESS!
Ugh, can I just say-where on earth did August go? That month flew by so fast I feel like I'm standing here in a whirlwind wondering what I just missed. The answer is a lot. I missed a lot of y'all's blog posts, some posts of my own, life events, and the sad thing is I'm not sure that is going to stop entirely-though I'm going to try harder. Work, school, Josh moving… It's been a blur!
September Goals
Read at least 2 books for fun. Lowering my number due to school.
Start playing duolingo at least 3 days a week.
Budget.
Start meal planning for one.
Get back to the Gym.
Complete the #NOEXCUSES challenge for once!
Sell my car.
Finish cleaning up my bedroom and moving stuff into the craft space.
Keep up on my school work/grades.
Have a rockin' awesome time at SLC ComicCon this coming weekend.
Figure out what I want to do for Fall Break in October. I'm thinking maybe OR again…
Announce my Holiday Hotlist by September 17th.
Participate in Swapoween with Chaotic Goddess Swaps!
Get everything lined up for CGSwaps 12 Days of Giveaways.
Maybe try and find time for a date somewhere this month… Maybe. lol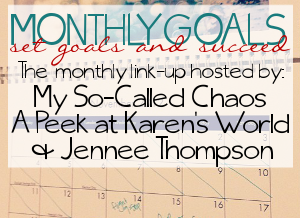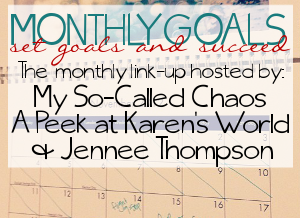 The linky goes live on the first Wednesday of each month.
Follow all three hosts: My So-Called Chaos, A Peek at Karen's World, & Jenee Thompson
Write up a post recapping previous goals & setting goals for the next month. The post needs to include the Monthly Goals button, use the code above!
Link-up your Monthly Goals post in the linky below!
Visit other blogs in the linky to show support!