I was always very fortunate growing up to have so many grandparents alive and well. People always seem very surprised to hear that, I guess it's not common to know your great grandparents or your great great grandparents. I was even lucky enough to know my great great grandfather (on my dad's side) until I was seven. He was 99 years old when he passed away and he was such an amazing person that those seven years influenced my life greatly.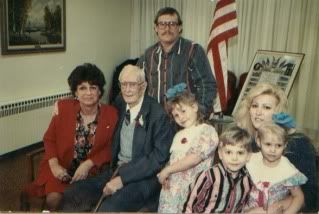 However, as time moves on you become more and more accustomed to the fact we are all mortal, and however lucky you were to have those people in your life, you don't get to keep them forever. It's both a powerful reminder of your own mortality, and the fact that you should really spend whatever treasured moments you can find with the people who matter to you. You never know when you'll no longer have those moments, or what you'll learn in those precious fleeting encounters that may forever change your life for the better. I'm glad I didn't miss those.
I barely remember my great great grandfather's funeral. I was so little, and I think that it's more lucky that I remember more of his life and the times I visited than him in a casket. I was also very little when I lost my great grandparent's on my grandpa's side, so I retain only memories of two-dollar bills, the cabin, grandma and her shotgun, and grandpa's missing leg.
It's been many years now since I lost my grandmother's parent's. I would have been in my early twenties when they both went and I was very lucky to have almost two decades to get to know them well. We lived with them for a while when we were children, and I'm so incredibly grateful for those years in their basement. Years filled with running upstairs to raid grandma's candy drawer or freezer for fudge pops, family reunions at the swimming pool, picking and canning grapes from the vineyard out back, and so much love. Great Grandpa Orson wen't one night when I was away, and though it was very unexpected Great Grandma Bernice lasted another few years. They loved each other so much, we didn't think she'd get by without him. I was with her when she died-it was the first time I'd seen anyone die and while it wasn't a bad thing to be there, it is hard to watch someone you love fade away.
In 2011 I lost my Great Grandma Dorothy. I hadn't been as close to her sadly as the others, but I loved her.
It was only a few short months later I lost my Great Grandpa Paul. He was perhaps the hardest one for me to lose because it came as such a shock. He was in his late eighties and still riding his bicycle to the store every day. Even though I had to know it wasn't true, he was so strong I felt like he had to outlive us all. But he slipped on some ice and fell, and never fully recovered. Great Grandma Delight was left alone in her great big home. Great Grandpa always used to say they'd die together, because he never wanted her left without him, but life-and death-has a funny way of screwing up all your plans.
That just left Great Grandma Dorothy, and she did not like being left behind. She did enjoy all of the time she got to spend with friends and family, especially my brother and sister-in-law who went out of their way to check on her and visit as often as possible. I'm so glad they were able to do so. Unfortunately I didn't get up to visit as much as I wish I had, but she was always really excited to see me when I did.
When I last visited her she told me she wanted to die. She was tired of being stuck at home connected to oxygen and forced to take so many pills, and she missed my great grandfather. My sister-in-law and I both told her how she should stay because we still all needed her around. We talked, we laughed, and we met her new in-home nurse Lila, who was amazing with her. Sometimes just having that little bit of extra help can really make a difference. Which is why it makes perfect sense that some people prefer to live in assisted living facilities like resort-style senior living place. It can be tough if they are on their own, so just having that little bit of extra help can really make a difference.
Last Thursday I received a text from my mother around noon at work. She said Great Grandma Delight would likely not make it long enough for anyone to make it to say goodbye, but my brother was headed over and would let us know. Shortly after he said she was more responsive and so I left work early to head over. I was cautious about heading over, hesitant to have her dying be my last memory of her, but when I walked into her bedroom listening to everyone explain that she wouldn't open her eyes but if I told her who I was she would hear me-I learned very quickly that I had to be there. When I hugged her and told her I was there she opened her eyes and reached for me. That made everything worth it and I was so glad to be able to be there to say goodbye to her. I was also glad to be there for the family prayer and the sharing of stories as the family stayed around with her.