Maybe I'm a weirdo, but I'm sure I can't be the only person out there that falls in love with totally inappropriate characters on TV?  Not all of them are fictional… But most are-in which case it's totally the character and not the actor playing him.  Please let me know I'm not the only one?Otherwise, read on-you'll realize my heart is a freak and you'll probably stop wondering why I date the wrong men…
10. Dexter Morgan from Dexter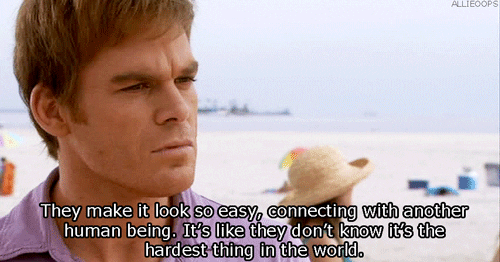 Okay, maybe he's not totally inappropriate… I mean he's a character they want us to sympathize with, but he still kills people… But he only kills bad people, and he does it with such conviction.  It's hard not to love him.
09. Sylar from Heroes
I'm definitely not the only one on this one.  He was so bad.  He killed so many characters we loved, but man, he was so dang sexy while he did it.  It helps that Zachary Quinto is so attractive, but I loved Sylar first.
08. Anthony Bourdain (No Reservations & Parts Unknown)
Okay, so this one isn't a fictional character-he's a real life chef and travel buff.  He smokes, he's not necessarily the nicest guy, and he's kind of old for me… But there's something extremely sexy about this well traveled food aficionado.
08. The teacher from Etre et Avoir
Also not fictional.  This teacher was part of the French documentary Etre et Avoir (To Be and To Have-you can
see it on YouTube
) and I can't explain it-he's not necessarily sexy, except for the accept, that's pretty good-but he's pretty old.  I was just so smitten with his sweet spirit I think, and he cared so much for the kids.
06. Jareth the Goblin King from Labyrinth
This is another I struggle to call inappropriate since so many of us feel this way… But I'm sure there's a whole generation of ladies out there that just can't even understand our love of Jareth and David Bowies Bulge… I mean younger generations must think we're so strange, and I know older ones think we're freaks… But we'll put him on this list because I had my first inappropriate feelings for this character…
05. The Master from Doctor Who
Yeah… He's a bad guy, I have a thing for bad guys I guess… But I can't help but get stoked when hear the drums…
04. Doctor Gregory House from House
Yeah, he's old, decrepit, and a total dick… But there's just something about his quick wit that makes me love him.
03. Doctor Frank-N-Furter from Rocky Horror Picture Show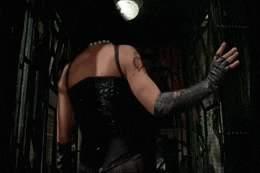 So this one has to be included.  It's odd that I was so turned on by this character, I realize this… Unfortunately this character has been kind of ruined for me after recent dating adventures and now I'm worried that RHPS will be ruined for me forever because my stomach kind of turns.  Hopefully I get over it, but for now let's just pretend that whole mess never happened because Tim Curry as Doctor Frank-N-Furter belongs on this list.  There's no getting around it.
02. Bane from The Dark Knight Rises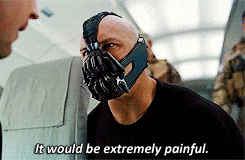 You might not believe this, and you can definitely call me weird for it, but it's not Tom Hardy I'm attracted to-it's Bane.  He has to keep the mask on.  I know, I'm a freak.
01. Sterling Archer from Archer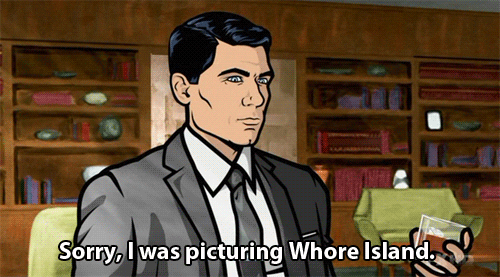 Okay, what's not innapropriate about this one?  A: He's a cartoon character, B: He's a total jerk and treats women (well everyone) like crap, and C: If I knew Archer in real life I'd probably hate him.  But I just have so much love for him and for this show in general.  Love love love.
Well, I think I'd better get in touch with my shrink now…
Do you have any inappropriate character crushes?