Hello my fantastic readers-have I got something lovely for you today! Today I have the fabulous Kelly in for an interview.  Kelly manages one of my favorite personalized jewelry shops (seriously, her stuff is stunning) called Your Charmed Life.  Well, Kelly always loves a good giveaway, and this go 'round she let me pick something from her shop that I thought you guys would love.  Since I'm obsessed with home goods lately, and always have a big love for stones and crystals, I've chosen this gorgeous Personalized Window Charm for my readers, and I really hope you all love it.
But first, let's go ahead and get to know a little bit more about Kelly and her shop.
How did Your Charmed Life get started?
A simple glance at another mommy's necklace, I was passing by and thought wow now that's neat. Mind you this was when hand stamping was just starting to surface when my son was a baby! I thought to myself, I can do that! It started off as a small hobby, then paying for small things for my son and now 6 years later it is my full time ++ job!
What inspires your creations? 
Family, is number one. Connections and life and nature.
What is your all time favorite piece(s) that you have created?
My all time favorite is also a best seller, its my "There is this boy who stole my heart, he calls me MOM" I made it years ago before it hit the market and it was something personal I felt for my own son. When I posted it for sale in my shop it took off immediately and is still selling strong now.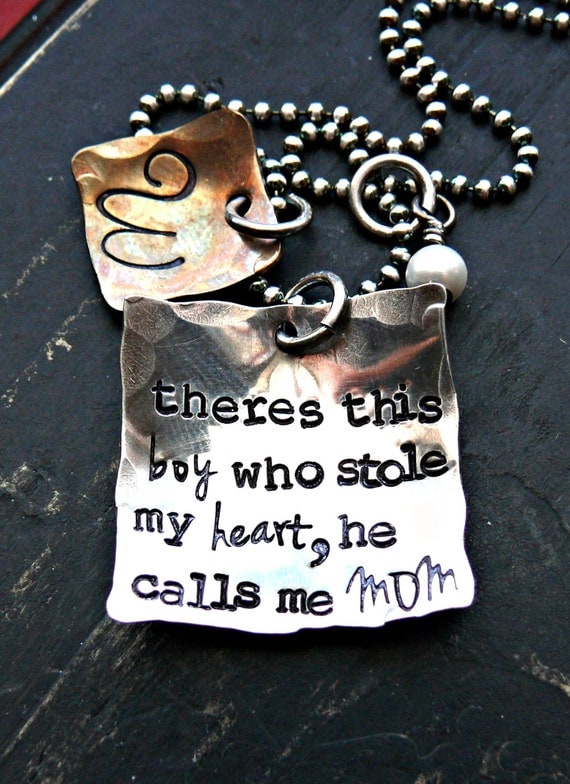 Where do you see your shop in 5 years?
Hopefully in my first store font, boutique shop. Its a dream of mine and I would like to see it happen
Do you have help, or do you do this all yourself? 
I do have help, someone who has been helping for a few years now. She comes and lends a hand twice a week.
What is one piece of advice you'd offer a new Etsy shop owner?
If its a passion, do your research and never give up!
"Ambition is the first step to success. The second step is action." – quote.
Thanks Kelly!  Also, right now Kelly has a fun Fall sale going on!  You can take 10% off any items in the shop with the code FALL10 at checkout!  Here are a few of the fall-inspired items I'd recommend from her shop:
Kelly is giving one lucky winner the gorgeous window crystal pictured in the first image on this post.  The giveaway is open Worldwide and ends on 10/20/15.  Entering below agrees to all Terms and Conditions within.
---