Most of us here in the blogging world consider ourselves creatives. We love to create-whether it's crafting, baking, writing, or something else artsy-we're creative. We like to surround ourselves with creativity, inspiring things such as art, quotes, and other people like us; meaning we also have lots of creative friends and family. We often want to share our creativity with our family, which means finding the right gift for them, whether that is a journal for them to write in, a sketch pad for them to create their art, or wristbands from sleekwristbands.com with inspiring quotes that they can carry around with them throughout the day. However, sometimes finding that perfect gift for a creative person can prove to be a little difficult. There are so many items out there that they might love. With the holidays fast approaching, many of us are on sites like noveltystreet.com, trying to find a unique gift for all of those creative types. It can be both fun and time consuming so the more options you have, the better!
Hint hint-I want pretty much everything in this post… lol
Disclosure: This post contains affiliate links-at no extra cost to you I may receive a small compensation for purchases you make through this blog. Thank you SO much for your continued support-and I hope you find the perfect gift this holiday season.
ONE | A PLANNER. Creative people are sometimes very disorganized and could use a little help organizing their thoughts and their time. If they're not a disorganized creative, then chances are they LOVE organization and a planner is that much better. I just love this cute Plum Paper Planner. I've used and loved their pretty planners, which are a nice less-expensive option if Erin Condren Planners are a bit too much (though Erin Condren's planners are lovely also.)
TWO | AN INSTAX MINI. Well, or any other beautiful creative camera-these are just so bright and affordable.
THREE | CUTE MUGS. Most of us creatives love our coffee, tea, and other drinkables-so an adorable mug really does the trick if you need a cute little gift that they'll love. Shown: Creative Juice Mug from Swanky Press
FOUR | FANCY PENS. Oh yes, we love our pens and markets. These Chameleon Alcohol Color Pens look like so much fun that I had to add them to my wishlist after seeing this video. Personally, I'd love some Copic markers also, or even a giant pack of multi-colored sharpies.
FIVE | CUTE BAKING STUFF. Oh man, even if baking isn't our main skill or hobby, most of us love to dip our hands into it. Have you seen all of the cute cookie cutters you can get? Or how about personalized rolling pins like this Funny Cats Embossing Rolling Pin. SWOON. Or you know, you could win them the Kitchenaid Mixer I have up for giveaway currently.
SIX | CUTE PLANTERS. Most of us creators (well the green-thumbed ones) love having live plants around. They not only clean the air in our homes and studios, but they also add so much vibrancy and life to the space. I am a total plant nerd-so getting me a plant or a planter as a gift will always go over well. Pictured here: Pastel Owl Planter Set from Brooklyn Global
SEVEN | INSPIRING BEDDING. You know, we creatives can be quite moody sometimes… Sometimes we're up and at it early in the day, and sometimes we want to lay about in bed and wallow-it's how we work and it's perfectly okay. Having beautiful bedding and a beautiful room help a lot. The perfect duvet cover or sheets can really make or break it. While I found my perfect duvet already, this Chesa Flurina Duvet and Pillow Covers set has me in the deepest of desire. It's so beautiful and artsy-any artist, blogger, or lover of good design would love to lay about in it. Thinking of bedding also takes me to another gift that could be paired with this. A bedside lamp with soothing light, similar to a Himalayan Salt Lamp, could be the perfect thing to allow people to relax and take them right to Sleepy Land. A salt lamp could improve the whole ambiance of the bedroom, so if you do decide to give this as a gift, you can get one from sites like www.thelamplife.co.uk.
EIGHT | CALENDARS. This gift goes along well with my mention of planners above, and boy, I'm a lover of a great calendar. I pick out new calendars every year with great glee-one for home, and one for work. This year I bought the Let's Pretend This Never Happened Calendar by David Olenick for work, and the Stay Wild at Heart Calendar for home. Though, down in my craft room, I really want to put a huge Chalkboard Calendar up like the one pictured.
NINE | FUNNY PENCILS. You can never have enough pencils around, especially not if you're an artist. Some cute personalized, or funny-saying pencils like this Witty Pencils Set from Brooklit make a great gift.
TEN | A CUSTOM WAX SEAL STAMP. Yes, we don't really use them anymore, but man wouldn't it be cool to have one? You could seal letters, gifts, holiday cards-and everyone would just love that personal little touch. I found this shop on Etsy called Back to Zero that is filled with Wax Seal supplies in vibrant colors. So beautiful.
ELEVEN | INSPIRATIONAL WALL ART. As mentioned before, we creatives love to be surrounded by inspirational things. I think a lot of it is because we need to be constantly inspired to keep doing what we're doing-so a gift of inspiring art or an inspirational wall decal that says something that inspires creativity is a fantastic idea. However, you could always go a step further. Us creatives, of course, love being creative so gifting wall art that we have to make ourselves is also another great idea. From crocheted hanging kits to custom diamond paintings, not only will be have a great decoration for the wall, but we'll also have some fun craft to do too.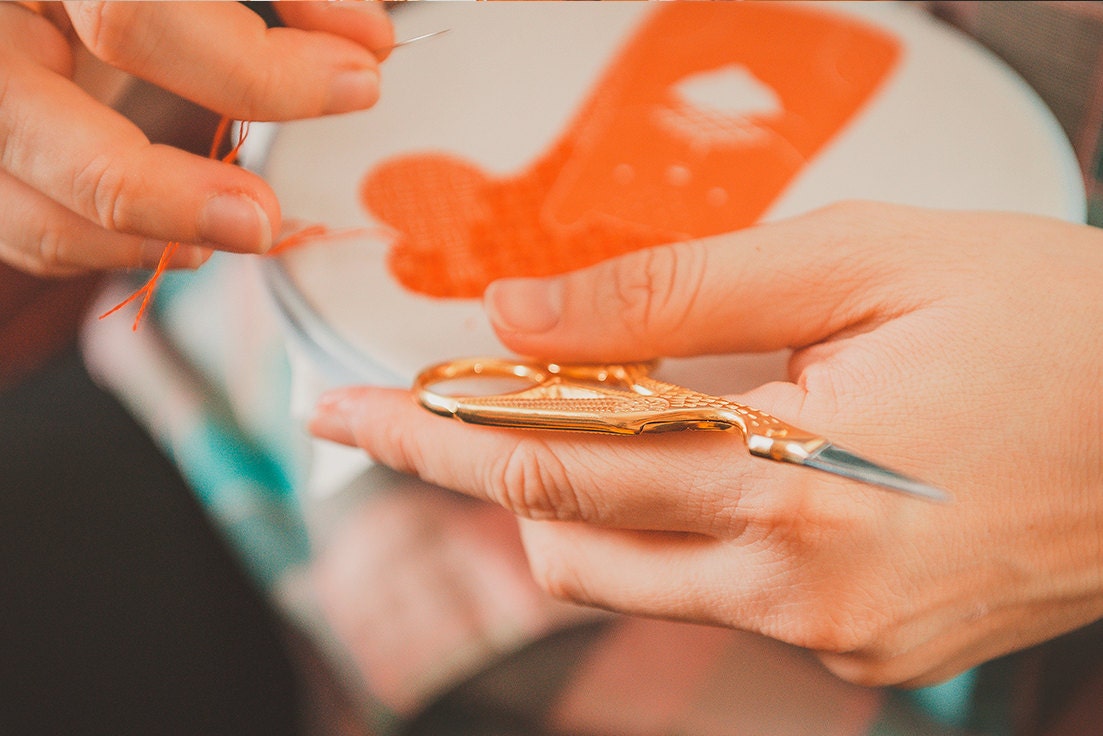 TWELVE | A DIY KIT. I once saw a quote that said something like "Why buy it for $20 when you can spend three hours and $99 on craft supplies to make it at home?" and it rings true. Making stuff at home can be way more expensive than trying to buy it, but we do it because we love it-so a DIY gift set or subscription would be an awesome gift for those of us that like to make things. Maybe your artsy friend has been dying to try a new kind of creating-like embroidery for example-you can pick a gift to help with that; like this adorable Embroidery Starter Kit.
THIRTEEN | AN EREADER OR BOOKS. Books are definitely the way to my heart, but a lot of creatives would kill to have an eReader like a pretty new Kindle. These pretty little technological libraries that you can pack around with you are surprisingly affordable these days too-so you can easily pick one up for mom, dad, your sister, or your best creative gal pal.
FOURTEEN | PERSONALIZED STATIONERY. Letter-writing is not just a thing of the past for people who are creative at heart. We cling to our letters, postcards, and pretty little notes-even as we advance our blogs and shops into the big world of digital. Pretty stationery still goes a long way as a great gift.
FIFTEEN | SOMETHING THAT APPEALS TO OUR HUMOR. Yeah… We make fun of ourselves a lot. That's why this "Paint Water/Not Paint Water" Mug Set is perfect. If I could tell you how many times I almost drank my paint water instead of my coffee just because I was so lost in what I was doing… I know I'm not the only one.
SIXTEEN | A PROMPTING JOURNAL. Yes, blank journals are lovely too, but there is something fantastic about a journal filled with prompts-and a quick walk down the Target stationery isle usually sends me home with one new one… There are so many different ones-I have the Listography and Future Listography ones and I love them, and I'm fairly sure I NEED the Travel Listography and Reading Listography ones, but I also love these 642 Things to Write About and 642 Things to Draw ones for good creative prompting. There are actually hundreds out there though…
SEVENTEEN | ADULT COLORING BOOKS. Adult Coloring Books are all the rage right now, didn't you know? Not only do they let us be creative, but they're relaxing and stress-relieving too. Also, if you pick up the Coloring for Grown-Ups: Adult Activity Book you'll spend most of the time laughing. I bought it, and there are coloring pages like "homeless or hipster" and fun activities like mazes where you have to navigate bad life choices. It's satirical, and hilarious.
EIGHTEEN | PENCIL/PAINTBRUSH/PEN HOLDER. Again, we can stand to have our lives-and our tools-more organized. I don't know an artist who has enough pencil/brush holders or tote bags or storage drawers. Pictured: Face Pencil Holder
NINETEEN | COFFEE. I may have mentioned (when referencing the mugs) that we creatives are fueled by coffee. I think that's probably an understatement, so stocking us up on delicious blends is always a brilliant idea. Shown: All Coffee Gift Set Coffee Box
TWENTY | TRADE BOOKS/COURSES. Most of us are in a constant state of learning and figuring out where our craft is going. We can always use the help, so pick up a book related to your creative friend's needs/style. For bloggers, I'd recommend Blog, Inc. I'd also recommend The Artist's Way for just about anyone-it's kind of a course for building on your art and connecting with it.
If all else fails, you really can't go wrong with a gift card… I'd recommend Starbucks (do I need to say "fueled by coffee" again?), Target (trust me, we can all find something we love at Target), Amazon (much like Target-we can find anything, only this way we can get it ordered in quick), or a gift card to their local craft/art store.
What's on your creative gift wishlist?
Check out this fantastic sponsor: