Ahhhh, Halloween is the best time of the year… It's better than Christmas. Fight me. J/K. But really, there are soooo many fun things you can do for Halloween with your family. When I was putting together my list of Halloween to-do's for this year, I figured I'd put together a list of 100 things you could add to your Halloween Bucket List this year. I've got ideas for days! Look at all of these…
A few of the links in this post may be affiliate links. I may receive a small compensation if you purchase something through one of these links, at no extra cost to you. Thank you!
100 Halloween Bucket List Ideas
So without further ado, here are 100 things you can do as a family this month to celebrate Halloween.
Learn About the Halloween Traditions of Other Cultures
One of the most important things you can teach your kids is cultural sensitivity. There's a reason some costumes are not okay to do, but that doesn't mean you can't learn about that culture and how they celebrate Halloween. Read some books, watch documentaries, or find a local cultural center where you can learn about other Halloween traditions. Need some ideas?
Learn about Dia de los Muertos, Calaveras, and Honoring Your Ancestors
Learn about Samhain and Halloween with the Celts
Find out about China's Hungry Ghost Festival
Need more ideas? Here are some other neat Halloween celebrations to look into…
Wear Halloween Themed Clothing & Jewelry All Month
Hey, what's more fun than dressing and decorating yourself for the month? I love wearing my Halloween leggings and spooky skull dresses in October. Sure, I wear them all year long, but whatever. I wear them more in October.


Learn the Time Warp Dance from Rocky Horror Picture Show
Okay, so maybe you aren't ready to let your kids watch this movie… That's okay. The song is safe to play and you can totally learn the dance and then teach it to them. This is one of my favorite songs to put on at a Halloween Party, especially when everyone gets involved in the dance. So much fun.
Pretend to be Mad Scientists and Conduct Experiments
Okay, be safe with this one… Don't do anything too crazy. But you can don the outfits and then whip up some slime or make one of those vinegar and baking soda volcanoes like we used to do for science fairs.
Spend a Chilly Morning Snuggling Inside a Cozy Blanket Fort
Kids love building forts, and you can relive your childhood a little by making one with them. Then, you get the added bonus of snuggling inside.
Count Down to Halloween with a Fun Advent Calendar
Why should Christmas get all the count down fun? Make or buy yourself a spooky advent calendar and enjoy counting down to Trick or Treating…
DIY Halloween Advent Calendar Ideas
DIY Witch Hat Advent Calendar
via Oh Happy Day
Spice Jar Halloween Count Down
via Makoodle
DIY Halloween Advent Calendar
via Nerd Bucket
Or if you'd rather buy one…
Start a Switch Witch Tradition
I may actually do this one this year… What's a Switch Witch? The idea is that a good witch visits in October and after Halloween she visits and takes some of the kids' candy and leaves behind a toy in place of it. How fun is that? You can totally use any Witch toy, or you can order a Switch Witch and book set.
Decorating Activities
The first place to start in preparing for the upcoming holiday? Decorating of course! Make your space as cute (or spooky) as can be, and have some family fun while you do it…
Start a Halloween Village
I started our Halloween Village a couple of years ago, and we love it so much. I've had a Christmas Village since I was in my early twenties, but the Halloween Village is new to me. I LOVE it.
Make A Haunted House in Your Garage
Why not turn your garage into a Haunted House? You can set up decorations, plug in some lights, play some spooky sound effects or Halloween music, and bam! You're own Haunted House. Make sure to keep health and safety in mind, especially if you normally store power tools in the garage. I've been trick or treating in neighborhoods where they have one-it's a blast! I have a cousin that does this every year as well. Recently they had to get in a garage opener repair in Pittsburgh mechanic to fix the garage door because it was making strange noises, you'd think that would have added to the aesthetic!
Decorate Your Yard/Porch
Put out Skeletons, zombies, tombstones, or even just some simple pumpkins. Make the outside of your home festive.
Han Halloween Lights
There's so many cute lights out there… Simply go with some Halloween-colored lights or get cute Ghosts and Pumpkin shaped lights. The options are limitless…
Decorate Inside Your House
Hang Halloween pictures, put out cute figurines, seriously-make your space spooky or adorable.
Carve Pumpkins
This is an activity AND a decoration. Carve out those pumpkins and set them out on the porch.
Plat Fall Flowers
Plant some lovely orange and yellow flowers in your yard, or in a cute Halloween pot outside.
Ideas for Getting Creative
One of the most fun ways to enjoy the season is to flex those creative muscles and DIY up some spooky fun. Here are a few ideas to try…
Make Paper Mache Pumpkins
You can make some pretty cool paper mache pumpkins by tying string around a big balloon (dollar store punch balloons work great) to shape it like a pumpkin, and then paper macheing over it. Once the paper mache is dry, pop the balloon and give your pumpkin a paint job.
Create a Halloween Diorma or Fairy Garden
Remember making shoebox dioramas in grade school? Man, I kind of miss it… I'm looking forward to making a Halloween diorama in my paper mache pumpkin. But you can also buy pre-cut pumpkins made for diormas at a craft store or carve out a foam pumpkin instead. Not into putting it in a pumpkin? Try a cauldron or a simple flower pot too.
Some Halloween Diorama Inspiration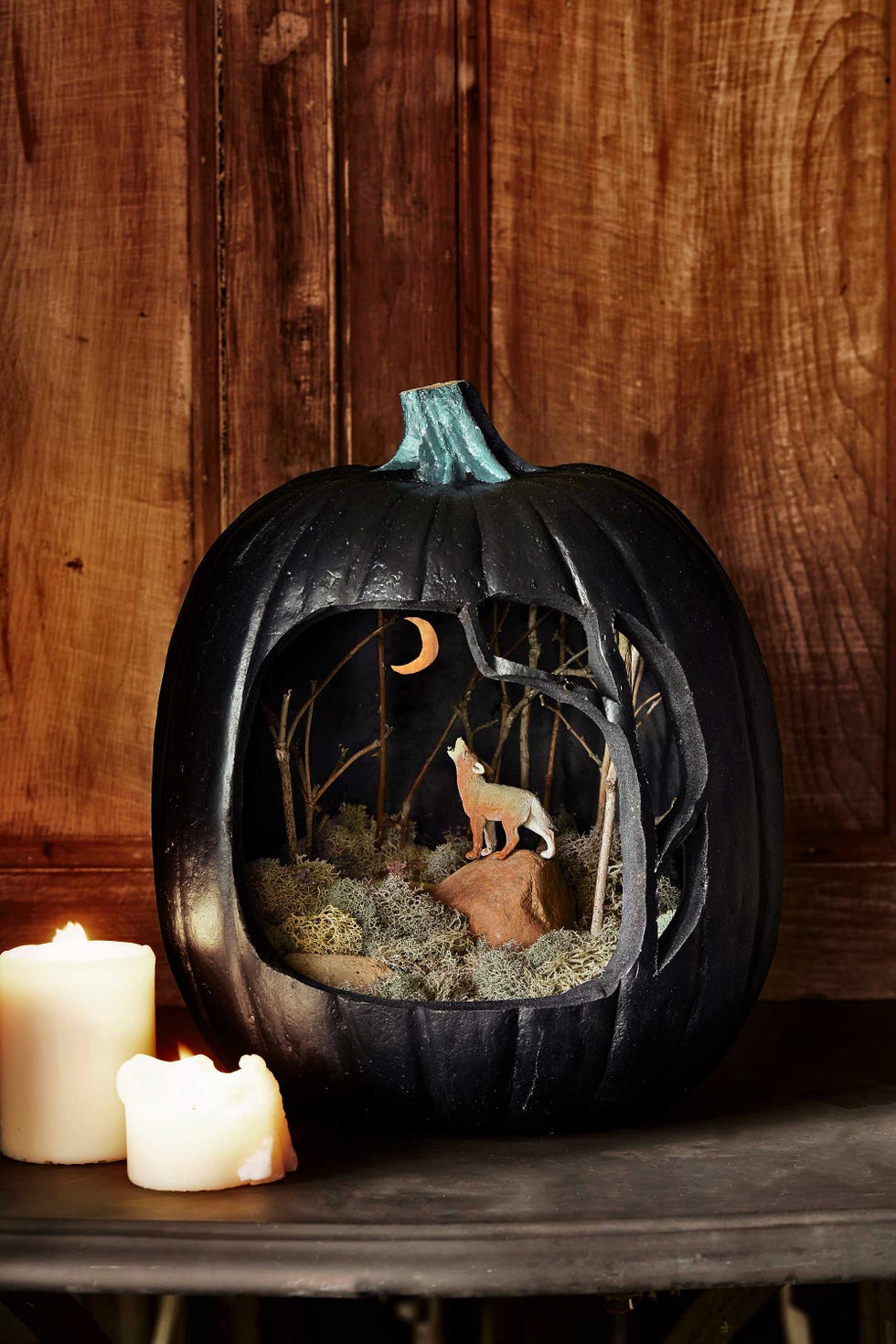 Howling Wolf Diorama
via Country Living Magazine
DIY Pumpkin Diorama
via A Pumpkin and a Princess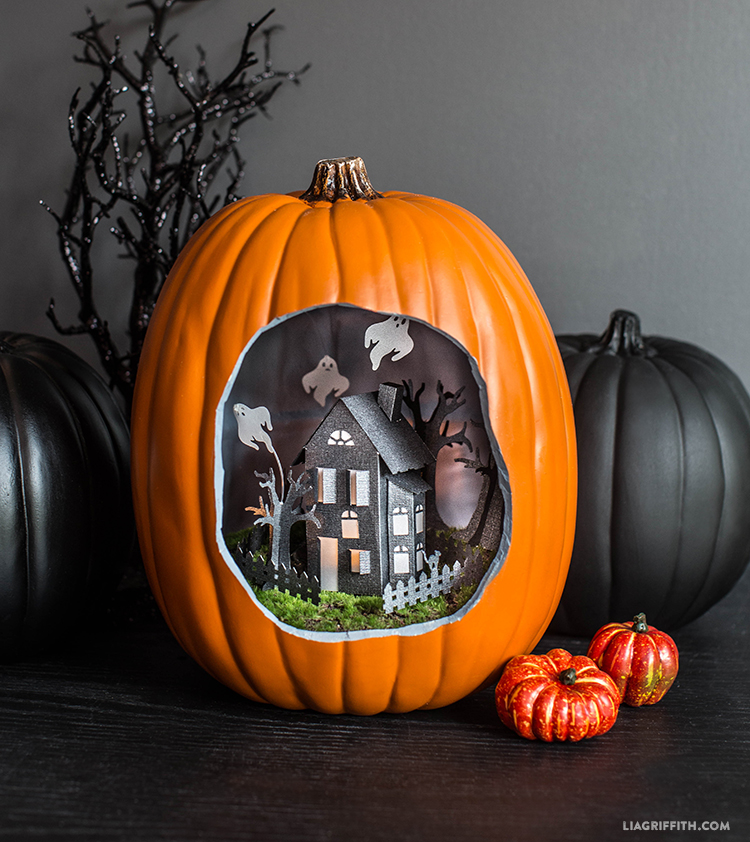 Halloween Pumpkin Diorama
via Lia Griffith
DIY Your Own Trick or Treat Bags
We did this using pillow cases and paint when I was a kid, and this year I picked up some plain canvas bags to let the kids paint. I can't wait!
Make Floating Cheesecloth Ghosts
I've been wanting to make these for years… Check out the tutorial HERE.
Make Your Own Halloween Banner or Wreath
I haven't found a wreath or banner that I'm in love with yet, so I'm going to DIY my own. I'll let you know how it goes…
Make Pumpkin Guts Slime
Okay, so I hate making slime… It's messy. It's annoying. But the kids looooove it. Pumpkin Guts Slime would be so festive and fun for them to do… Outside.
Paint and Hide Halloween Rocks
I've been participating in the Kindness Rocks challenge where you paint and hide rocks for people to find around the city. Why not do a bunch of Halloween ones and hide them throughout the month? So fun!
DIY a Halloween Costume
Store bought costumes are so… Well, cheap. Less meaningful? But hey-they're easy and I'm totally glad they exist. With this being said, if you've left it to the last minute to get your john smith (Pocahontas) costume, I guess buying it would be better than making it from scratch. But if you've planned in advanced, you could give DIY costumes a go. I wanted to DIY costumes this year, but I've run out of time so-they got cheap store costumes. To be honest, I'm pretty sure they prefer that…
Create Your Own Grave Stones & Make Your Yard a Graveyard
DIY some awesome tombstones out of cardboard or foam and put them around the yard to make your own little graveyard.
Color in a Halloween Book or Halloween Pages
Snag yourself some super cute Halloween coloring books, or download some free Halloween printable coloring pages. Cheap, easy, and still fun and festive.


Write a Halloween Poem
Take some time to write some fantastic Halloween rhymes as a family. Maybe try your hand at a spooky haiku?
Make Art Using Fallen Leaves
For this activity you get the fun of gathering pretty fallen leaves and using them to make crafts and art. Need some ideas? Check out: 7 Ways to Turn Your Fall Leaf Collection Into Art
Cook Up Some Halloween Goodness
For those of us that enjoy cooking/baking, and want to get our families into the fun with us, there are SO many awesome things to try whipping up in the kitchen. Here are just a few tasty things to make…
Bake & Decorate Halloween Cookies
One of my favorite memories is making and decorating Halloween sugar cookies with my mom. I can't wait to do that with the kids this year… I already bought some amazing Halloween Cookie Cutters.
Make & Drink Mulled Apple Cider
Oh man, I have this recipe for Drunken Pumpkin (only you know, leave out the drunken part if you're making it for kids) that I'm going to have to share with you soon. It's super easy though, you can just fill a pot with Apple Cider, throw in some fruit (apples, oranges, etc.) and cinnamon sticks, and let it simmer for a few hours. Voila, mulled cider.
Bake Pumpkin Seeds
When you're done carving your Pumpkins, save up those seeds and bake them. They make a tasty and healthy treat.
Make Caramel Apples
I've never made caramel apples, but why not? I'm sure the kids would enjoy this. Need a recipe? Here's one for Gourmet Caramel Apples…
Cook & Eat a Creepy Dinner
Why not creep out the kiddos with a super weird Halloween dinner? You know the kind of food where it looks like something else… Body parts, bugs, etc… Here are some ideas:
Red Velvet Cinnamon Roll Guts
via Nerdist
Halloween Turkey Pesto Eyeballs
via Lick the Bowl Good
Meatloaf Hand
via Not Martha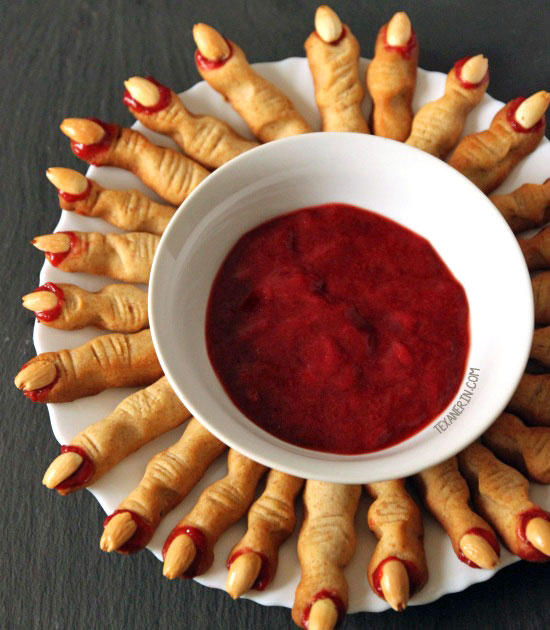 Witch Finger Cookies
via Texanerin Baking
Bloody Brain
via Martha Stewart
Severed Finger Hot Dogs
via Salty Canary
Bake Pumpkin or Apple Pie
These are more Fall oriented, but who wouldn't love either during Halloween too?
Build a Haunted Gingerbread House
Word's out, Gingerbread Houses aren't just for Christmas anymore. You can DIY a Haunted Gingerbread House or even buy a Haunted Gingerbread Kit to make with the littles. So much fun!
Make a Halloween Breakfast
Enjoy a Halloween breakfast with Pumpkin Pancakes, Ghost Toast, and other fun Halloween breakfast food ideas.
Eat All the Halloween Foods
Eat them all. I wont judge. I'm doing it too. Here are some of the staple Halloween/Fall foods you'll want to snack on before they leave stores after the season…
Eat Candy Corn
Okay, it's not the most amazing candy in the world… But you can't deny it's pull this time of the year. And hey, if you don't like to eat it, you can always just craft with it.
Eat Caramel or Candied Apples
Don't want to make them as suggested above? It's cool. This time of year you can find delicious candied and caramel apples in stores and at fun events and festivals. Enjoy them while you can, or you may have to resort to making them at home…
Drink Hot Cocoa
Okay, so you can keep drinking Hot Cocoa throughout the cooler months, but it's another fun thing to do this month when the air turns chilly. Want to make it even more Halloween themed? Try a pumpkin hot cocoa or a Halloween hot cocoa. They're so fun!
Enjoy Halloween Cereal
With all the teeth-aching marshmallowy fun, don't miss out on eating Boo Berry, Count Chocula, and FrankenBerry while it's out for a limited amount of time. Surprisingly, my teeth don't hurt with these like they do with Lucky Charms. Weird!
Drink Pumpkin Spice Lattes
Don't let anyone tell you that there is anything wrong with being a basic you-know-what. I'll own it. Though I prefer the term basic witch, thank you very much. Don't like PSL that much? (Me either, TBH) then go for a good Maple Pecan or Salted Caramel. Yummmm.
Eat Apple Cider Doughnuts
These are apparently a thing, and they're apparently amazing. Why have I not tried them before? Okay, I have no idea where to get them… Besides Vermont. But I did find a cool Apple Cider Doughnuts recipe I should try…
Enjoy Pumpkin Cheesecake
One of my all-time favorite Pumpkin foods is Pumpkin cheesecake. I've tried many, and aside from making it at home, the best one is at The Cheesecake Factory…
Throw a Halloween Party
I used to LOVE throwing a Halloween party, and I think I may even do a kid-friendly one this year… Here are some fabulous Halloween Party ideas.
Make Cute Halloween Favors
Everyone loves taking home a cute favor, and they don't have to be difficult, see these simple ways to wrap your party favors for your next Halloween party for ideas…
Cook Cute Halloween Party Treats
We totally did these adorable little treats for our Halloween-themed baby shower last year.
Bob for Apples
A class Halloween party game-plus, how fun would it be to watch those kids do it? A hoot!
Play Halloween Party Games
Aside from bobbing for apples, you can play things like pin the the nose on the pumpkin and the spider ring toss games.
Put Together an Office Halloween Party
Why not plan an Office Halloween Party? I used to do this every year for my team, and we usually just made it a potluck. We played silly games like doughnut on a string or mummy wrap, and we gave out prizes for best and spookiest dishes.
Organize a Trick or Treat Event at Work
For years my company has done Trick or Treating at work. It's the one day of the year that employees are encouraged to bring their families in to work, and we all hand out candy from our desks. Tiny ones walk up and down the rows trick or treating, and it's so fun and so cool to see their cute little costumes.
Plan a Monster Mash Dance Party
The Monster Mash is one of the most infamous Halloween songs, and so why not have a Monster Mash bash and dance your faces off?
Play a "Guess How Many" Jar Game with Candy
Fill a jar with candy (make sure to count it) and have people guess how many pieces are inside. The closest one wins the jar and takes the candy for themselves.
Have a Costume Contest and Give Out Awards
This encourages people to show up in costume, and it's fun to have every one vote on who's costume wins. Then you can hand out fun little trophies or ribbons from the party store.
Throw a Backyard Bonfire
If you have a fire pit, a backyard bonfire is the perfect thing to invite guests over to enjoy. Roast some marshmallows, make s'mores, hang out and have a good time.
Host a Chili Cookoff
Chili Cookoffs are a very fun and delicious way to celebrate Halloween and October. I've done them for personal and work parties. It's always fun to try all the chilis, and then vote on who's is the best.
Keep Yourself Entertained
I mean, Halloween entertainment is definitely one of the main aspects of the month, right?
Create a Halloween Soundtrack
Make yourself a playlist of all of your favorite Halloween songs. Need inspiration? Here's my ultimate Halloween Playlist:
Have a Halloween Movie Night
Movie nights are the greatest, but they get even better when it's Halloween movies and you're curling up on a chilly evening. Snuggle up with some of those Halloween snacks I mentioned above, and watch one of the awesome Halloween movies you can stream or buy. Need a recommendation? Check out the Top 20 Halloween Movies on my Watchlist.
Play a Halloween Board Game
Why not have a family game night and play a Halloween board game? So much fun!
Put on a Spooky Sound Effects Album
Why not play some spooky sound effects in the background while you play or do things around the house? It'll definitely get you in the spooky mood.
Read a Halloween Book
Snuggle up as a family with a spooky, or cute, Halloween book.
Be Generous
One of the most important things you can teach your kids is generosity and compassion. Volunteering and donating isn't my first thought for Halloween, but there are plenty of Halloween Bucket List items that involve giving back. Here are some fun ideas to keep them in the spirit, while teaching them the spirit of giving…
"Boo" Your Neighbors
Have you heard of "Booing" your neighbors? It's a fun little project where you leave an anonymous treat on a neighbors doorstep and a little sign to let them know they've been "Booed" and encouraging them to pass it on. That way, the acts of kindness start going around the neighborhood. So much fun! Want to learn more? Read: How to Boo Your Neighbors
Make Halloween Goody Bags for Your Friends
I used to make Halloween Goody Bags for my friends and their kids for every holiday. It was soooo much fun. Oh, and I have a super fun Halloween Goody Bag Tutorial too.
Volunteer as a Family
There are surprisingly lots of fun Volunteer activities that are Halloween-themed. You can volunteer to hand out candy at city/state events, or host an event fundraiser Halloween party. I used to help plan Howl-O-Ween events for a local rescue group, and it was so much fun! Need Volunteer ideas? See: 6 Service Ideas for Halloween
Hand Out Candy to Trick or Treaters
This one is easy, you just stay home and hand out candy. Not such a bad idea if you don't want to hit the streets to trick or treat, or you have enough candy already.
Hand Out Candy at a Trunk or Treat
Simply find a local trunk or treat event, decorate your trunk, and hand out candy! They're usually looking for more people to come and hand out candy so there are more options for the littles. We did this last year, and it was so much fun!
Invite a Lonely Neighbor/Family Member to Hand Out Candy with You
Sometimes when people don't live on a street that gets trick or treaters, or they are older and lonely, simply inviting them to join you can make their day. Why not reach out to your elderly relative and have them over for handing out candy? Or, if you're visiting a loved one in a senior home, there are many games for elderly you can give a try. I'm sure it'll make their day!
Take Halloween Goodies to the Less Fortunate
It's always good to think about those who are less fortunate than you. Why not teach your kids compassion by having them help you take Halloween treats or goodies to the less fortunate?
Here are some ideas:
Retirement/Convalescence Homes
Children's Hospitals
Homeless Shelters
Give Classmates/Coworkers Halloween Treats
This one is easy, simply make up some treats or take a bag of candy to work or school to share. It's a good deed, and takes very little effort. Plus, it'll make people like you more.
Send Halloween Cards to Friends and Family
Snail mail doesn't have to be dead. Why not write up some Halloween cards and send them out to let those you love know you're thinking of them? It'll brighten their day to get something other than bills in the mail.
Participate in the Teal Pumpkin Project
Have you heard of the Teal Pumpkin Project? The idea is that you hand out something other than candy so that kids with allergies can still enjoy trick or treating. Simply stock up on some great non-candy items to hand out instead of (or in addition to) Halloween candy, and put a teal colored pumpkin on your font porch so they know where to stop.
Get Out of the House in October
Get your butts up off the couch and head out into the world for some wicked fun Halloween experiences like these…
Spend Time in the Great Outdoors
There's nothing better than the smell of campfires and crisp autumn air. Well, maybe all of that with the smells of sweet cinnamon and other spices. Go. Get out. Enjoy.
Visit a Pumpkin Patch & Pick Pumpkins
This is a must every year, especially if you have children. Go to the Pumpkin Patch, pick out your pumpkins for the year, and take some really great Fall photos of the family.
Go to a Corn Maze
Why not spend an evening navigating a corn or hay maze with the family? It's fun to get a little lost, and it's great to be out in the fresh air.
Go on a Haunted (or not) Hayride
Take a hay ride and enjoy the evening air with those you love. You can find some haunted ones for a thrill, or if you have kids that scare easy, go for a fun haunt-free ride instead.
Take a Drive to See the Fall Leaves
Before they all fall, hop in the car and drive up the canyon to enjoy the foliage. Cheap and easy!
Have a Fall Photo Shoot
Last year when we went to Black Island Farms (which was a pumpkin patch, corn maze, and hay ride all in one) we also did a little impromptu photoshoot with my DSLR. It was so fun! Take friends along and take photos of each other's families.
Tell Ghost Stories Around the Fire
If you have a campfire, or throw that bonfire party, why not tell ghost stories? Don't have a fire? Sit around a fireplace or use a flashlight in a dark room. So much fun.
Visit a Haunted House
If your kids are old enough, or you don't have kids, go to a Haunted House and get spooked. It will be many years before I can do this with the family…
See a Halloween Movie in Theaters
Find a family friendly Halloween flick in theaters and take your family out to enjoy it.
Visit a Cemetery (Respectfully of Course)
Why not take a walk through a cemetery? Enjoy the gravestones and spooky atmosphere, or just visit and honor your dead relatives.
Jump in the Fall Leaves
There are so many amazing parts of Fall, but having to collect up all the fallen leaves is definitely the worst part. A quick tip: if you have a large yard or lots of trees, then a leaf blower will make this task a lot easier. Visit Thebestleafblowers.com to see their picks for the best leaf blower, which will be useful in helping you to choose one. There is one way you can make this fun though – create a big pile of leaves and jump and play in them. Simple and fun, even if you are a little itchy after…
Go on a Spooky Scavenger Hunt
Why not write up a list of fun and spooky things to find around town and then walk or drive to mark them off your list?
Go Out to Dinner in Your Costumes
Why spend all that time and money on a Halloween costume you only wear once? Don those costumes and go out to eat.
Watch a Spooky Movie in the Woods
Why not take your laptop or tablet out and watch a movie int he woods? Or, find a local event with a Halloween movie playing in the woods. We have a few here, some are showing scary movies, and some are just showing movies like Hocus Pocus.
Check Out the Halloween Sections of Your Favorite Stores
I LOVE when the Halloween sections fill up in stores… We've already been to so many stores looking at goodies, and I still want to hit up a few more… Of course, this also means I spent money I shouldn't have on Halloween decor I fell in love with…
Can't make it to the store? If you follow my girl Sam at The Haunted Housewife she usually posts pictures from stores she's visited so you can virtually check them out.
Take a Walk in the Crisp Autumn Air
A simple, yet wonderful, Halloween activity you can do is to just take a walk. Either around your neighboorhood, or through the park, just get out and be active together and enjoy the sights and smells of seasons changing.
Go on a Family Bike Ride
If you have bikes, ditch the walk for a wonderful ride with your family.
Go Apple Picking
Why not take the family out to pick apples? Some local farms will allow you to get out and pick apples, and take home what you pick. Then you'll be all set to bake your Apple pies…
Take a Train Ride Through the Autumn Countryside
Why not find a fun and local train to drive you through the countryside where you can admire the changing leaves? We have a couple here, and they even do a haunted train ride a few times throughout the month.
Go to a Costume Party
Find a friend, or a local city event, where you can party in your costume without having to host. This way you can enjoy a party without having to do the prep and clean up.
Go to Special Local Halloween Events
While you're out, you might as well enjoy some local events. Here are some ideas for events to look for near you…
Go to a Pumpkin Smash/Drop
These events are usually put on towards the end of the month (or just after Halloween) by the local Pumpkin Patches and farms. It's where they smash pumpkins, or drop them from large cranes. So much fun!
Shop at a Farmer's Market
I LOVE the Farmer's Market all of the time, but there's just something extra special about it in October… Do this early in the month, because a lot of them end in October. My local Farmer's market ends by about mid month.
Participate in a Zombie Walk
Zombie Walks are large public events where people show up and walk around the city dressed like Zombies. They're usually organized ahead of time and route set up and approved by the city. It's soooo much fun. We used to go and dress like zombies and roam about. One year, there were even zombie protesters holding up signs saying things like "God hates zombies" and "Go back to hell" which was hilarious.
Attend a Trunk or Treat
Trunk or Treats are fun organized events where you trick or treat to cars in a parking lot instead of houses. They can be safer options sometimes, but hey are also usually on days other than Halloween so you can still do both.
Go to a Fall Festival
Likely, your city will have a TON of great Fall celebrations going on throughout the month of October. Find some local Fall festivals to attend and enjoy yourself.
Take a Local Ghost Tour
Some of the coolest tours I've ever done was take ghost tours in major cities like Seattle, Portland, and Savannah. There are so many cool bits of history to learn, and you can get a little spooked in the meantime.
Boo at the Zoo
Most major Zoos across the country will host a Boo at the Zoo event where you can go trick or treating at the zoo. Ours is the 27th of October, and we're totally planning on taking the kids. We're really excited, especially since Amelie has started paying attention to animals and exhibits now.
Celebrate Oktoberfest
Throughout September and October you can usually find fun Oktoberfest celebrations to attend. Sure, it's a lot of brats and beer, but there are things for kids usually too. Our local event has booths for shopping, and it's held at a ski resort where we can take the kids zip lining or down the alpine slide.
Take on Some Halloween Travel
Tired of doing the same old same old at home? How about hitting the road (or the sky) for a fabulous Halloween destination?
Go on a Fall Foliage Road Trip
Want to get away without spending too much money? Why not take a road trip through the places where you can see the prettiest foliage? Drive through a national park, the mountains near you, or even up the eastern coast where you can admire the colors.
Go Camping
Yeah, it's probably pretty cold out to camp, but it's still kind of fun. Just make sure you're bundled up and you'll be warm when you're sleeping, otherwise it's a blast. Just make sure to wear orange, as there are lots of hunts going on this time of year.
Visit a Ghost Town
Another great road trip idea is to drive out to see a ghost town or two. Last Summer, my best friend loaded her family up in the van and drove to multiple Ghost Towns here in Utah. She went on a Ghost Town tour, and she loved it.
Rock Halloween at an Amusement Park
Rides? Games? All of that fun Halloween food you need to check off your Halloween Bucket List? Check check check!
Celebrate Halloween at Disney
One of my major Bucket List items is to take the family to Disney for Halloween one year. I am being totally tortured by all the ads on Hulu showing all of the fun you can have, and all of the blogger posts showing all the food you can eat… I am DYING to go.
Visit Knotts Scary Farm
Why not venture to California and check out Knotts Scary Farm? It's on my list of places to go, and I know I went to Knotts Berry Farm when I was a kid, but I don't remember it. While you're there, the whole city it's in transforms into a Halloween Haven, so you'll have lots to do.
Brick or Treat at Legoland
Visit any of the Legoland Locations for Brick or Treat in October. A fun thing for kids, and honestly… Legos are fun for everyone.
Make Magic at The Wizarding World of Harry Potter
Another must-see for me is to go to The Wizarding World of Harry Potter. How much fun would it be to spend Halloween among the witches and wizards instead of all these muggles? Go and get yourself a wand at Olivander's, enjoy some Butterbeer, and man… Take pictures so I can be super jealous.
Fright Fest at Six Flags
Any of the Six Flags found nationwide are having Fright Fest for the month of October. Go spook yourself and ride some super fun rides.
Check out Frightmares at Lagoon
If you're in the Utah area, or want to travel to Utah, check our our local amusement park Lagoon for Frightmares throughout the month of October.
Hershey Park in the Dark
If you're looking for an option closer to the East Coast, check out Hershey Park in PA. They transform into Hershey Park in the Dark for Halloween.
Visit a Haunted Location that Knows How to Celebrate
Why not indulge in some history while enjoying the hauntings of the season? Here are just a few amazing cities and sights for enjoying Halloween and learning a little too.
Party it Up in New Orleans, LA
You may know that NOLA has a great party scene, especially when it comes to Mardis Gras, but it's also a major Halloween Hub too. Why shouldn't it be? This city is rich in voodoo history and old enough to claim quite a few famous ghost stories. If you visit around Halloween, you can find cool activities such as:
For ideas on what to do in New Orleans at Halloween, see: How to Do Halloween in New Orleans and Halloween for Kids in the French Quarter and Beyond.
Celebrate with the Ghosts in Savannah, GA
I have friends that live in Savannah, so I've been a couple of times, but only during the Summer. One year, I'm headed to Savannah for Halloween for sure. This city knows it's ghosts, and it's rich in cemetery and haunted history.
See why you should visit the "spookiest little city in the south" this Halloween, see: Halloween in Savannah.
Pay Tribute to the Witches in Salem, MA
One of my dream trips is to spend Halloween in Salem. I actually have an ancestor who was burned during the Salem witch trials, and the witch love runs deep. Plus, the foliage there is AMAZING, and this city celebrates Halloween in style.
Tour the Winchester Mystery House
Located south of San Francisco, the Winchester Mystery House is one of the most fascinating stories of American hauntings. Story says that the widow of the Winchester guns fortune was so haunted by all of the deaths her family legacy left, that she continued to build on the house without end. She build stairs that led nowhere to confuse the ghosts, and more. We were lucky to tour this many years ago, and in spite of being kind of "disney-fied" with the gift shop, it's a really cool tour to take.
Tour Dracula's Castle in Transylvania
Okay, if you have the mans, spending Halloween in historic Transylvania Romania would be AMAZING. Did you know you can tour Dracula's castle? Amaaaazing.
Free Halloween Bucket List Printable
To celebrate this Halloween Bucket List, I've gone ahead and made a free printable for you to download if you wish. You can use it as Halloween decor, or you can simply use it to check off items you complete. Either way. 🙂 Download it HERE or by clicking on the image above.
What is on your Halloween Bucket List this year?