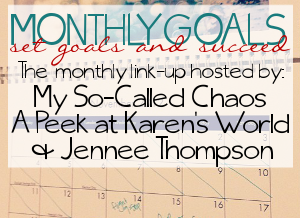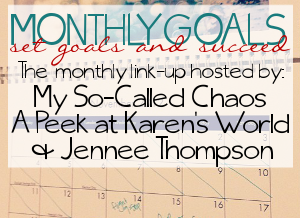 The linky goes live on the first Wednesday of each month.
Follow all three hosts: My So-Called Chaos, A Peek at Karen's World, & Jenee Thompson
Write up a post recapping previous goals & setting goals for the next month. The post needs to include the Monthly Goals button, use the code above!
Link-up your Monthly Goals post in the linky below!
Visit other blogs in the linky to show support!
March Recap
Read & Finish at least 2 books. FAIL.
Work on projects for my shop (and plan to reopen) FAIL.
Keep doing well in school. SUCCESS-ish… I have a B in French.
Juice more. SUCCESS
Get at least 30 minutes of physical activity a day at least 5 days a week. FAIL
Send my Mug O'Comfort partner The Grand Adventures of Me a great package! SUCCESS
Send my Foodie Pen Pals partner a great package. SUCCESS
Get a bunch of mail out and send out replacement packages for a few people who didn't get theirs. IN PROGRESS – I've done a lot, but there were a few that got lost somewhere I need to redo. 🙁
Destash all of my for swap/sale nail polishes. IN PROGRESS – sold a bunch, but enter to win some HERE!
Clean and destash my bedroom. FAIL.
April Goals
Make some art
Bring up my French Grade
Play Duolingo to practice my French at least 3 times a week.
Read at least one book for fun
Register for Fall Semester & Get FAFSA handled
Attend SLC Comic Con
Have a birthday dinner someplace good
Have a fun birthday party
Put together an awesome birthday giveaway
Go to LaCaille with the roommate's Jr. High class
Clean/Dejunk my bedroom once and for all!
Finish destashing my nail polish/beauty goods (enter to win some HERE)
Keep working on cooking/learn to cook new things
What are your goals this month?