I Will Follow You Into The Dark
by Death Cab for Cutie
***
I hadn't heard this song in years, but it came on the radio today and sent a wave of nostalgia washing over me.
When I was first introduced to this song I was 20 or 21 and in the midst of figuring out who I was. I was living in an apartment up by Weber State and trying to figure out the whole dating and sex thing since I was still only a few months to a year out of my first heartbreak.
At the time, I'd begun seeing an older guy. I was 20 and he was 40 (yeah, my parents didn't like it-but I was testing the waters of this world for myself.) He was a very good looking older guy, dark black hair, chiseled jaw, muscles and he smelled like Aqua di Gio. It was a slightly Dominant/submissive relationship-him being older and pretty much in charge, and me being young and naive and trying my hand at a different kind of relationship than I'd ever been exposed to. He was so much older, wiser, and more experienced and I was completely enthralled with him.
He was the CEO of some company that dealt with computers, and he used to work from this little coffee shop up the street from my apartment. I still remember how I'd pretty myself up and go in for a cup of coffee just to feel the thrill of seeing him sitting in the corner working away. We'd lock eyes, he'd wink at me, and I'd feel that flutter. Twenty minutes later he'd be knocking on my door and I'd be caught up in a whirlwind of emotion and that musky scent I grew to love.
He introduced me to the song above, and we lay there and spoke of our hopes and dreams, of wanting kids and a love that lasts forever. Always with a bit of hope in our hearts, even though somewhere deep down neither of us expected it to ever go much further than where we were currently. Suffice it to say, whatever it was we were experiencing only lasted about 3 months. Soon I found myself unable to continue in something I knew wasn't going anywhere, unable to continue down a path that would inevitably end in heartache, and I ended it with him.
Even though it's been 4 or 5 years, sometimes I still think about him when I walk into a coffee shop or catch of whiff of that cologne. It's an involuntary reaction, but it leads to some kind of sweet nostalgia that I don't mind thinking of once in a while. I hope wherever he is out there, that he has found happiness and the love this song implicates that he so dearly treasured the thought of.
Do you have a song that takes you back?
Tell me your story! Write about it and link up! 🙂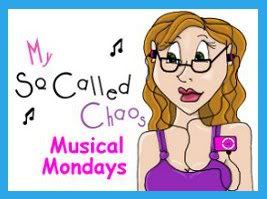 <a href="http://mysocalledchaos.com"><img src="http://i725.photobucket.com/albums/ww257/agofish/For%20Blog/musicalmondays.jpg"></a>