A few weeks ago we discussed
Blog Sponsorship
(sponsoring other bloggers and advertising) in the
New Blogger Series
, so today let's discuss accepting sponsorship on your own blog.
What is Blog Sponsorship
 Blog Sponsorship is basically when someone pays you to put their advertisement up on their blog, or when you pay someone else to put your advertisement up on theirs.  In essence, they are sponsoring your blog (allowing you to put that money towards advertising for yourself, improving your blog, or whatever you'd like) while they in return get exposure for their blog/shop/site they are advertising.
Why You Should Accept Blog Sponsorship
 Finances. It's not pretty to talk about money, but it's a fact of life we all have to deal with.  While for most of us blogging is a beloved hobby, it's not a free hobby.  I spend hundreds of dollars a year putting together awesome giveaways, sending happy mail, paying for my domain hosting (having an actual blog domain makes you really stand out and seem more professional), advertising on other blogs to get more readers, etc.  Paying all of that money out of pocket for a hobby can cause some burnout-but being able to finance your hobby with your hobby-it's fantastic; and if someday you can turn that hobby into a career that you actually enjoy-that's even better.
When to Start Accepting Blog Sponsorship
 When should you start accepting ads?  When you feel ready.  You have to know that accepting ads is going to take some time and effort, so you'll want to make sure that you have the time and ability to devote to your blog.  Not only for promoting your sponsors, but for blogging on a regular basis.  If you're not blogging often, then you wont be bringing as many eyes to your blog on a daily basis (you don't have to blog every day, but multiple times a week is important) then your advertisers/sponsors aren't going to be getting that much attention either.
So in short, make sure you have the time to devote to blogging as well as promoting your sponsors, content for your blog (DIY posts, family posts, etc.), and the ability to do all of these things.  If you only blog once a month, don't own a working computer, or don't use Social Media, accepting sponsorship is most likely not for you.
Getting Your Blog Sponsorship Program Started
Before you get started, there are a few things you need to ask yourself and figure out what your answer is.
How do you want to manage your ads?
 So you've decided to start accepting advertising, now what?  Well first you're going to have to decide how you want to do it.  Do you want to kick it old school and arrange all of the payments and set up manually?  Or do you want to hire a service that takes care of it all for you?  There is no right or wrong about it-it's all about the work vs. cost you are willing to put into it, and the benefit you're hoping to receive out of it.
 The Old School Way
This method requires that you have potential advertisers email/contact you to request an ad set up.  You can then arrange payment with them manually and have them send it over, and then manually ad their button/ad to your sidebar as you see fit.  Using this method will require you to be on top of your dates and pricing, because you will also have to remember to manually take down the ad once they are no longer paying for it.  This method is generally cheaper, but takes a lot more work.
Hiring a Service
This method is generally much easier for you and the advertiser.  You can hire a service that handles all of the billing, setup, and dates for you.  While this is the easier option, it usually does cost money (for a good one) so if ease of use is worth a cost to you, this is your best option.
While I've heard of a couple such services, I personally, I use Passionfruit Ads (and no, they did not pay me or sponsor me in anyway for what I'm about to say-I just love it!) to sell my ads, and I will never go back.  They make it so effortless to set everything up and then they handle the rest.  All I have to do is approve the ads and then follow through with what I offer my sponsors later.  I never have to worry about taking an ad down at the end, putting it up, following through with payment, etc.  It's all automatic, and they have fantastic support.
What sizes of ads will you offer?
The next thing you'll want to decide is what sizes to offer, how many of each size, and where in your sidebar you're going to put them.  If you look at my right sidebar I have them off to the far right, but still at the top of the page so they're easily seen.  When potential advertisers look for a place to put their button, they're going to consider where your ads are placed (I hardly ever sponsor anyone who has them at the bottom of their blog so you have to scroll all the way down to see them) and they're going to look for nice large visible buttons.
When deciding sizes, you'll first want to consider the size of your sidebar.  How wide is it?  How far down do you want the ads to go?  This is how you can determine the size of your ads.  The best size for my sidebar is 200px wide.  This fits comfortably and fills the space.  Then based on the ad you choose the height varies-such as 200×300, 200×200, or 200×100.  Making all of your ads the same width looks much more professional since they fill the space better.  If you were to make them different widths, then I recommend you cut it in half so that two will fit side by side (my swap ads are 100×100 so they still fill the full space and don't look awkward.)
What else will you offer?
After you've decided what ad sizes you'd like to see in your sidebar, you'll want to decide what you'll want to offer with each ad size.  Generally the larger the ad, the more that is offered with it (and ultimately the more it'll cost to purchase-but we'll get to that) so you'll want to decide what you have time for and can promise to your sponsors.
Some common sponsor offerings include: Feature Posts, Guest Posts, Giveaway Options, Social Media Shares, etc. There are a lot of options you could go with, it's all about learning what you can handle and offer your sponsors.  If you have a really busy life you might want to keep your offerings more limited.  I had to get rid of Feature Posts because it took up too much time and space on the blog to post them (and I'm not sure people read them) but I do include a feature with Individual Giveaways for my sponsors.
What will you charge?
Pricing.  This is perhaps the trickiest part of accepting advertising.  You don't want to scare potential sponsors away by charging too much, but you definitely need to know your worth and make it worth your while to accept sponsoring.  So how do you decide?
Followers & Page Views: Take a look at the amount of followers (both blog and social media) as well as your page views.  If they're low, keep your prices lower to match.  You can always change them in the future (I recommend giving current sponsors notice and/or a discount when doing so) to meet your growing blog.
Sizing & Offering: Larger Ads with more perks should be more than smaller ads with less perks, but having different sizes/prices is great since people want different things for different budgets.
Cover Your Costs: The whole idea of accepting sponsorship is to be able to "keep the lights on" for your blog.  Consider what you pay for your space: hosting charges, advertising on other blogs/sites, the fee for using an ad service (if you go that route), etc.  Make sure you break it down and factor it into your ad prices too so you can make sure what's coming in is more than what is going out.
Attracting Potential Sponsors
 Now that you've decided how you want it all set up and what you want to charge, it's time to start attracting sponsors to your blog.  When you're first starting out, this can be very difficult.  Have you ever heard the phrase "You have to have a dollar to make a dollar?"  The same can be said for advertising.  You need to have ads in your sidebar in order to attract more ads-people want to see what it will look like if they decide to put their ad their.
For your first month, you can expect not to make a whole lot of money-so why not give away a few ad spots?  Start by picking a few of your close friends, favorite bloggers, or favorite shops and offering them a free month of advertising on your blog.  Not only does that help your image for other potentials, but there's a chance that those advertisers will want to renew and pay next month (especially if you offer a return discount code.)   Then run a giveaway.  Give a few of your ad spots away to a few lucky winners-giveaways drum up attention and you're doing your job of filling your sidebar.  Having that dollar, so-to-say.  Frequent discounts and sales are also great ways to drum up attention!
Write up a blog post, share it on as many social media sites as you can (facebook, twitter, instagram, pinterest, etc.) so that you can get the word out.  The possibilities are endless!
Words of Advice From Someone Who's Been There
You don't have to accept every ad.  It's totally up to your discretion!  If you feel a potential advertiser doesn't fit with your blog or that you can't support their product for some reason, you can reject the ad. In fact, it's better for both you and your readers if you do this.  You don't have to spend time promoting something you don't believe in, and you show your readers consistency in what they can expect from you.
Communication is important. Always communicate with your sponsors.  Email them welcoming them when they advertise, gather information from them (I like to create a Google form for them to fill out), comment on their blogs often, respond to their inquiries, etc.  No one wants to sponsor someone who doesn't communicate.
Don't overestimate your limits.  I do this.  I try to offer too much and sometimes can't always follow through.  I always try to make it up to them (adding free months, etc.) if I feel I haven't done my best, but it's still never good to offer something and then not do it.
Reward your return sponsors. I love offering advertisers a hefty (sometimes 30%-70%) discount for renewing their ads, and people who return often and continue to support me will often find I automatically extend their ads for free months here and there to show my appreciation.
Learn from other bloggers.  Pay attention to how other bloggers run their ads.  It can be very useful as you narrow down what you want to offer and the kind of blog you want to be.
Have fun with it.  Not only is this an opportunity to make some extra money, but it's a fantastic opportunity for you to get to know new bloggers and shops and not only find amazing things but make new friends.
What's your best Sponsorship advice?
Also don't hesitate to let me know if you have any questions, I'll answer in the comments!
---
The Better Your Blog Series is a series of posts written by myself, Angie of My So-Called Chaos, from my own personal experience as a long-time blogger, small-business owner, and as someone who's worked with technology and customer service for many many years. They are written with the intent of sharing the knowledge I've acquired through years of practice and education (both self-taught and school-taught) with others in the blogging community.
In this collection of posts you'll not only find tips for maintaining your blog, but also for anything that goes along with being a blogger and/or small business owner-like design tips and tutorials, social media, tools, and more.
The posts in this series are constantly being updated to make sure they stay current, and the series is constantly being added to. Please contact me if there's something you'd like to learn.
---
---
---
The Rules: Answer the 11 questions, tag 11 people & let them know, and ask them a new set of questions.
1. When you turn off all technology, what do you enjoy doing the most when you're alone?
Reading, sleeping, or camping. Sometimes all three! Sadly I don't take nearly enough time away from technology, but usually if I go camping there isn't access and I enjoy a nice quiet evening of camping and resting peacefully.
2. If you had the chance to contribute to a charity of your choice, who would you help?
I do already, actually. I volunteer with Cause for Paws Utah occasionaly (not as much lately as I should) and I donate money to them whenever I can. I am all about helping save animals. I also volunteer and donate money to various charities on a monthly basis through the Utah Cyber Sluts who put on Bingo where half the proceeds go to a charity (Make a Wish, Juvenile Diabetes, etc.) and the other half goes to the Utah Pride Center.

3. What's in your purse (travel bag, beach bag) that you're embarrassed about?
Way too much crap-honestly I'm mostly embarrassed about how jumbled/crazy mixed up it is. I really need to clean it out…
4. A show you've always wanted to watch, but you never did?
I can't honestly think of one… If I wanted to watch it I probably just would.
5. What is the best advice that you have been given?
Be yourself. There's no use changing for people-if they don't like you for you then they are always going to find some reason not to-no matter how you change. So don't do it. Love yourself and the right people will love you too.
6. A beauty product, that you're dreaming of, but still haven't gotten yet?
Benefit Cosmetics World Famous Neutrals – Easiest Nudes Ever.
I've only been dreaming of it since Thursday… But I want it!
7. Which blogger or youtube vlogger had the biggest impact on you so far and why?
Honestly, originally it was
Mamarazzi
. She showed me so much about the world of blogging, reviews, giveaways, blog swaps, and more! There have honestly been so many since then that it would be impossible to name them.
8. What is the worst thing to say on a first date? (personal experience?!)
Oh my goodness, where do I start? Probably "I live with my parents and don't have plans of otherwise because it's so easy to not have to pay rent or be responsible." lol-mostly I would say DON'T answer your cell phone on the first date-sheesh!
9. A beauty fail: What's the high-end product that you're disappointed about?
Julep. There's only a few of their colors/products I actually love. I still keep trying because I like the idea of it, but I might be getting close to done with my subscription. Plus, their customer service treated me horribly-which is something you never really forget.
10. What is your personal "fashion no – go"? (a style that came back & you still don't understand why)
The bird-poop hair. Totally platinum blonde on top and really dark brown/black on bottom… It's hugely popular around here especially combined with the "rat your hair into a large square on your head" also known as "Shotgun hair" which my roommate calls it because "it looks like they shot the back of their hair with a shotgun." lol
11. What would you say to a newbie in the blogosphere? Any tips?
Make your blog readable. Stay true to your voice. Don't let the haters get to you.
Also check out my
New Blogger Series
for tips and tricks on growing your blog!
Tagged: (We want to get to know you better!)
How did you get started blogging & what keeps you doing it?
What do you think makes you unique?
What's your favorite thing about yourself?
Where do you see your blog in 5 years?
What's the best tip you've ever received about blogging?
How does blogging affect your real life and vice versa?
What is something you're actively working toward and how are you getting there?
What is your absolute beauty must have, and why?
If money wasn't an issue, what would you run out and buy right now?
What is one beauty tip you feel that everyone should know?
Who's your freebie (if you're married-the one person/celebrity you can cheat with without it being cheating) or you're single, your number one celebrity crush?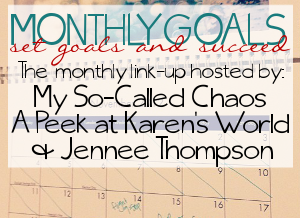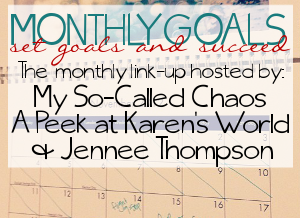 Yay! It's the first Wednesday in June-so you know what that means? GOALS!
The linky goes live on the first Wednesday of each month.
Write up a post recapping previous goals & setting goals for the next month. The post needs to include the Monthly Goals button, use the code above!

Link-up your Monthly Goals post in the linky below!

Visit other blogs in the linky to show support!
Recap of May
Well, you win some you lost some right? No use crying over spilled milk.
Ah, I miss the ocean!
June's Goals
Read, finish, and review at least one book.
Get back into Weight Watchers hardcore (so far I'm doing well this week)
Blog more over at Health NOT to Health NUT
Make more nail polish art and get it listed in my shop
Buy my DSLR finally-I really need to stop using my phone camera for everything
Find my planner and start really using it
Get my bedroom dejunked and in order
See Mr. Bingo ♥
Be better about saving a little money instead of blowing it on nail polish
Please put the button in your post if you are linking up!
The Ultimate Blog Party 2013 is all about meeting new bloggers and putting yourself out there. It's kind of like a blogger conference-but from the comfort of your own seat and without the pricey plain tickets and admissions! Yay! Run on over to 5 Minutes for Mom to join in!
For those of you visiting from UBP13 or for those of you who are just new to the blog (I have a ton of new faces around here! So excited!) I'm Miss Angie, and this is me:
I am a single twenty-six twenty-seven (well in 13 days anyway!) year old girl living in a two bedroom apartment in Salt Lake City with my roommate, his pet bunny Pitre, my pet snake Tess, and my fish Galileo. My roommie and I are big on hosting parties and you can often find some of our really close friends at our house for a night or an entire weekend living it up! We also go out to eat a lot… And I share all of that here on the blog-in pictures-because well, it all deserves to be documented! Here are a few photos that show you what my life with my friends is like:
Not only do I blog here at My So-Called Chaos, but I blog over at Health NOT to Health NUT as well, where I'm documenting my journey from not healthy to fit and healthy! I'm currently doing Weight Watchers and it seems to be working-but I'm only 2 weeks in! I also craft and create things for my shop Chaotic Creations by My So-Called Chaos, and I sell blog design on Etsy in the My So-Called Chaos One Stop Design Shop. Also, I co-manage a blog swap blog with my bloggy bff Beth over at Chaotic Goddess Swaps.
Aside from the digital world I work full time doing technical support, and I also volunteer with a local rescue group called Cause for Paws Utah. I help with their website, facebook page, and I volunteer in person with the animals when I can.
And every second Friday of the month I volunteer with the Utah Cyber Sluts for Gay Bingo. Where half of the money goes to the Utah Pride Center, and the other half goes to the charity chosen for that month. We've raised funds for shelters, animal rescue groups, juvenile diabetes, cancer foundations, and all sorts of things! All while having a really great time!
I like to keep myself busy, and this blog documents all of the things I do with my life. Some of the more popular things I touch on here include Love & Dating, Book Reviews, and I just started a new series called So You're a New Blogger? with hopes of helping people with blogging tips! I also host a two weekly link-ups, Musical Mondays and The Weekly Round Up which is on Sundays and focuses on sharing blog posts from other bloggers. On the first Wednesday of every month I host the Monthly Goals Linky party where we share our goals for the month and support each other.
Your Turn!
Whether you're stopping by from the UBP13 hop, you're just one of my new readers, or you somehow found your way here today-I want to know about you! Leave me a comment telling me who you are, how you found me, and a link to your blog! 🙂 I want to get to know you!